This is the right spot if you are wondering what to serve at a pizza party. From healthy vegetables to delectable chicken wings, here are the best pizza sides to compliment a pizza and satisfy your guests!
From appetizers, to healthy and frozen-pizza compatible side dishes there is a lot to choose from. Steamed Broccoli with lemon and garlic, Healthy Spinach Dip, Buffalo Fries and Onion Rings are great options. Blooming Onion, Baked Beans and Pasta Salad are excellent options as well.
This article will cover the best sides to serve your guests at a pizza party. We have divided the side dishes mainly into these categories: healthy, appetizers, frozen pizza compatible. What are we waiting for? Let's jump right into it!
What Appetizers Work Well With Pizza?
If you're concerned about not having enough pizza, add an appetizer or two to round out the meal. Ckicken wings, stir-fried broccoli in olive oil and garlic, buffalo fries, and a healthy spinach dip are all popular options. Appetizers are simple to prepare and always well received!
What Should You Bring to a Pizza Party for Kids?
Most kids enjoy finger foods such as a slice of pizza, but what do you serve with it? Classic crowd-pleasers include onion rings, french fries, chicken wings, and garlic bread. Veggie lovers of all ages will enjoy the buffalo cauliflower bites and air fryer asparagus.
Need ideas to keep the kids entertained at the pizza party? Check out this Pizza Activities and Puzzles packet.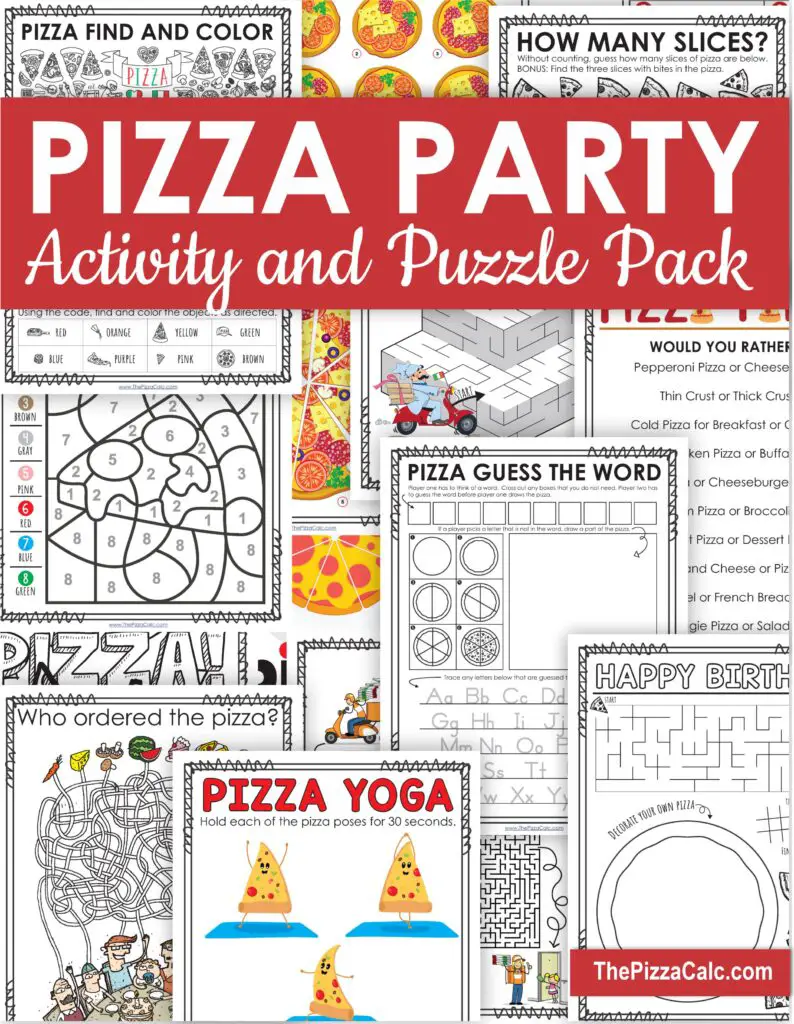 Read more about pizza party birthday ideas too!
Healthy Side Dishes for Pizza
Steamed Broccoli
Look no further than steamed broccoli for a healthy and colorful pizza side dish. For added appeal, top it with sesame seeds, lemon, or a cheese sauce.
Air Fryer Buffalo Cauliflower Bites
This delectable side dish is a vegetarian take on buffalo wings. Healthy, low-carb, and ready in just 20 minutes? Please, yes!
Air Fryer Asparagus
This asparagus is an excellent way to incorporate more vegetables into your meal without sacrificing flavor. It is crunchy on the outside and tender on the inside. For added flavor, sprinkle with parmesan cheese! If you do not like asparagus, try Brussels sprouts.
Corn and Tomato Salad
The corn and tomato salad with red onion are light and flavorful, making it ideal for summer. This vibrant side dish will be on your table in less than 10 minutes!
Healthy Spinach Dip
Serve this healthy spinach dip with crudités or crackers to accompany your meal. It's incredibly simple to make, and everyone enjoys dipping at a party!
Classic Caesar Salad Recipe
Caesar salad is a traditional pizza accompaniment, and this recipe includes all of the traditional ingredients, including homemade croutons. There is no need to make concessions because it's simpler than you think!
Best Sides To Serve at a Pizza Party
Mango Habanero Chicken Wings
What's a pizza party if there aren't chicken wings? These crispy baked mango habanero wings with an extra kick are an all-time favorite! Ideal for parties, game days, or whenever you crave something spicy.
Blooming Onion
Have you ever missed the carnival and the food that goes along with it? This recipe tastes exactly like Outback Steakhouse. Remember to have your favorite dipping sauce on hand!
Buffalo Fries
These Buffalo fries are a better-than-Wingstop knockoff. They're stuffed with cheddar cheese, blue cheese, ranch dressing, and buffalo wing sauce. So tasty!
Homemade Garlic Bread
Who doesn't enjoy garlic bread with their pizza? For your pizza party, skip the store-bought and opt for homemade! Set out some marinara dipping sauce to top it off!
Easy Green Peas With Mint
You might think that green peas and mint are an unusual combination. On the other hand, this vibrant and healthy dish will pleasantly surprise you!
Coleslaw
Coleslaw is a crowd-pleaser that combines crisp cabbage and fresh carrots in a creamy mayo dressing. At a pizza party, it's a simple dish that goes a long way.
Easy Appetizers for a Pizza Party
Crispy Potato Wedges
What foods pair well with finger food? Another appetizer! These crispy potato wedges are an excellent accompaniment to your pizza party. They are tasty with or without dipping sauces.
Air Fryer Frozen French Fries
Instead of deep frying, use an air fryer for a healthier alternative. These french fries have a crispy exterior and a fluffy interior. At a party, these are ideal for sharing and dipping.
Salt and Vinegar Potato Chips
Instead of buying store-bought chips, make your own. These crispy salt and vinegar potato chips are delicious. You'll be smacking your lips from the extra vinegar flavoring!
Onion Rings
These onion rings are a crispy Burger King knockoff and full of onion flavor! This delectable appetizer or side dish requires only a few simple ingredients and 15 minutes of preparation.
What to Serve at a Pizza Party – More Great Pizza Sides Recipes
Roasted Parsnips
These great roasted parsnips will delight veggie lovers. They are tender and sweet, with a nutty flavor and a gorgeously caramelized outside.
Sous Vide Zucchini
If you've never tried sous vide cooking, now's your chance! This low-carb, keto-friendly recipe yields tender zucchini chunks every time. Seasoning is as simple as salt, pepper, and parmesan.
Simple Skillet Green Beans
A healthy side dish that uses up your fresh garden produces quickly. You only need a few green beans, some garlic, and some spice. Simple and delicious!
Hush Puppies
Hush puppies are a popular Southern side dish that is crispy and tender on the inside, making them the perfect finger food! What's the best part? It only takes 20 minutes to prepare them!
Baked Beans
Baked beans are an excellent choice for a filling side dish! They're high in protein and flavorful, with tomato sauce, honey, and spices.
What Goes With Frozen Pizza?
When pairing with frozen pizza, you'll want dishes that can be prepared in 20 minutes or less. Choose a side dish such as garlic bread, salad, or even french fries. Alternatively, you can prepare a side dish ahead of time, such as potato wedges or habanero chicken wings.
Garlic Mozzarella Cheese Bread
You might as well go all out when you're already eating cheese-covered bread. This garlic cheese bread recipe is fantastic for your taste buds because it adds a kick of flavor to your meal.
Garlic cheese bread goes well with pizza, and if you have some marinara sauce on hand, you can make the sauce as a tasty dipping sauce for your bread. To make your bread, you could use pizza dough. Another option it to make breadsticks.  Kids LOVE breadsticks. Want to jazz up the breadsticks? Add a garlic butter to dip them in – it makes a delicious side dish to pizza.
Making a whole batch of garlic cheese bread is also simple if you have a bread maker. If you don't have any, use a store-bought loaf of Italian bread and toast it before serving. So, garlic bread is your secret weapon when giving your guests the full experience.
Pasta Salad
Instead of choosing hot on hot for your side, try an excellent pasta salad to cool things down. My kids prefer pasta salad over potato salad and it goes better with the pizza theme. Pasta salad is a traditional side dish that can be made in various ways, so you don't have to serve the same every time.
You can make your pasta or buy pre-made pasta from the store, but either way will save you time. So, the great thing about pasta salads is that they are filling enough to serve as a main course and pair well with vegetables.
The fantastic thing is that you can prepare this dish ahead of time so you can focus on your party instead of worrying about the sides.
Coleslaw or Avocado Salad
Instead of adding more bread to your cheese pizza, try coleslaw. This is a light and refreshing dish that can balance both the flavor and texture of pizza. If you do not like cabbage, try an avocado salad. Yum!
Coleslaw is great for making ahead of time because you must whip up a quick dressing to go on top of the fresh veggies. Coleslaw complements a variety of sandwiches and barbecue dishes, but it's also ideal for pizza night. If you wish to make things interesting, serve coleslaw or the avocado salad on the side or as one of your toppings.
Onion Rings
Deep-fried onion rings are an excellent accompaniment to pizza. Getting an air fryer would be highly beneficial in this situation because it would eliminate the need to deep fry.
If making onion rings for a crowd, keep some marinara sauce on hand for people to dip their onion rings in. If time is short, you can buy pre-made onion rings and heat them in the oven for 6-8 minutes.
Mozzarella Sticks
For your pizza night, nothing says classic like mozzarella sticks. You can make these mozzarella sticks ahead of time and reheat them when it's time to eat. They make the perfect side dish.
Mozzarella sticks complement marinara sauce on the side to create a delicious combination everyone enjoys. You can get this store-bought and buy a lot for a low price, so it won't be too difficult to make.
Jalapeno Poppers
Still wondering about what to serve at a pizza party? To get people excited about the delicious main course, jalapeno poppers are also one of the best side dishes.
This spicy treat on your pizza is an excellent option if you enjoy cheese. You can make jalapeno poppers yourself or buy them ready-made and get creative with how you serve them.
Because of the flavor, they're a great addition to pizza and make a great late-night snack. Do not be afraid to add some vegetables to your jalapeno poppers to fill them out and add some more healthy ingredients to your side.
Roasted Vegetables
Roasted vegetables are a good option for keeping things light. Roasting vegetables is a healthy option because it adds flavor without adding many calories.
It's simple to roast vegetables in the oven. Add fennel and olive oil to provide a different flavor. You can buy a bag of frozen or fresh vegetables and chop them yourself. It's also an excellent side dish to please your more health-conscious guests.
Zucchini Fries
Zucchini fries are a great side to make with pizza because they go so well with cheese and marinara sauce. So, zucchini fries are a fun twist on French fries that you won't be able to stop eating.
If the thought of making your zucchini fries overwhelms you, purchase frozen ones to save time.
You can serve these with a marinara sauce for dipping or make your own if you want to get creative. If you're on a diet, zucchini fries are an excellent substitute, but if you're not, pile them high on your plate.
Conclusion – What to Serve at a Pizza Party
A pizza party is the perfect opportunity to serve up everyone's favorite food. Whether you're a fan of classic pepperoni or enjoy something a little more adventurous, like pineapple and bacon, there's a pizza for everyone. And, of course, no party is complete without some delicious sides and drinks. So, round up your friends and family and get ready to feast on some of the best pizza around!
Check out these ideas for dessert at a pizza party.
Still searching? Try the 100 Pizza Toppings List.