A pizza party is ideal for any time of year and occasion, whether it's a birthday, graduation, or simply having friends and family over for fun. If you're planning a pizza party, you might be looking for entertainment. Here are some super fun pizza party activities and ideas to try!
Pizza Boxes Assembly Race, Design Your Own Apron, Pizza Charades, and Pizza Word Searches are excellent options for pizza-party activities. 
This article is about the best pizza party activities you need to make your party a lot more fun! We have included a wide range of activities and games to ensure fun is guaranteed. For in-person parties and virtual parties, this article is ideal. Let's jump into it!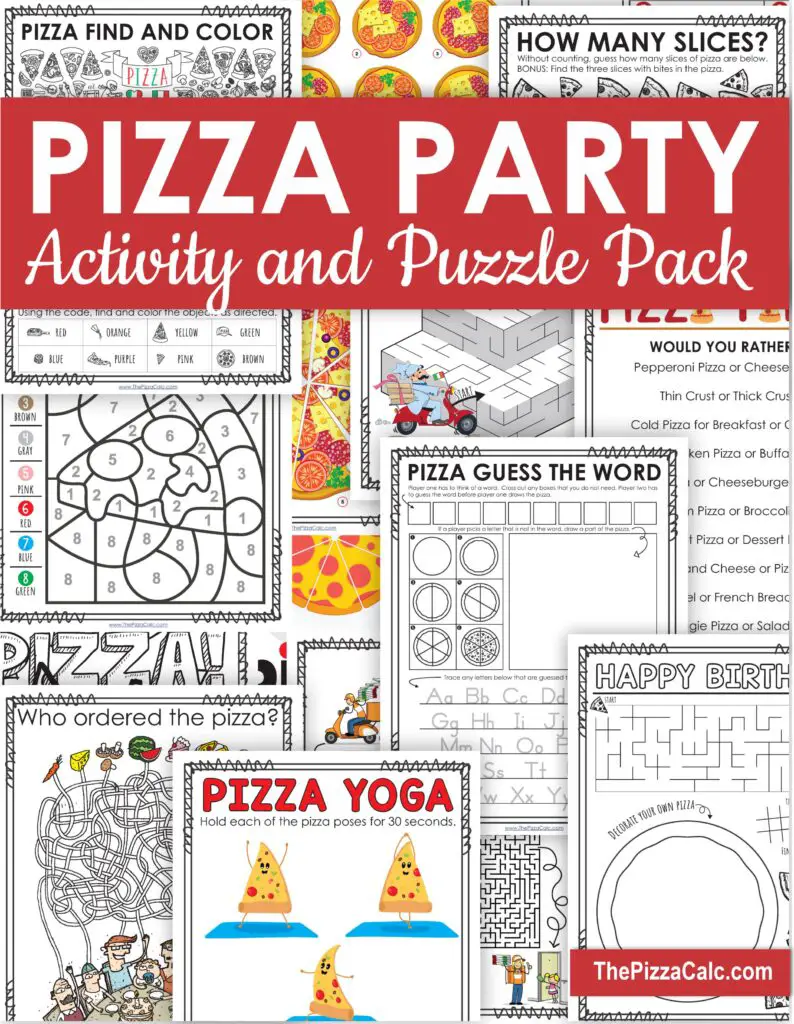 Games You Can Play with Pizza
If you wish to do more stuff than watch a movie at your next pizza party, here are some games and activities to keep everyone entertained.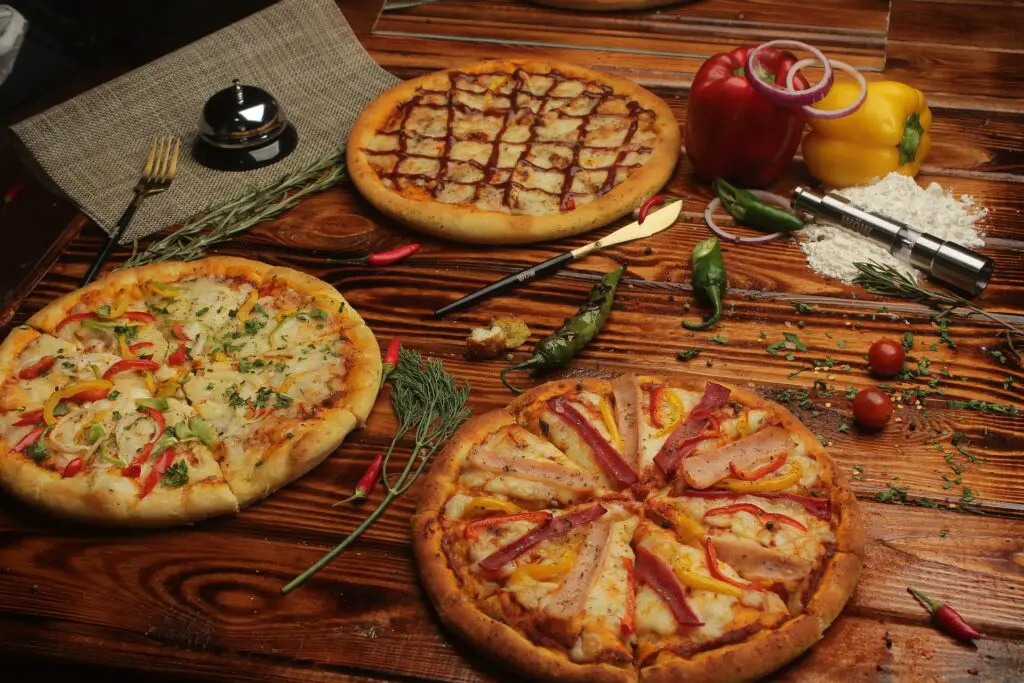 Game Time!
Along with traditional board games, look for pizza-themed ones, such as the spin-a-slice pizza game or pizza dice-capades.
Coloring Contest
Download these FREE pizza coloring pages. Pick one page or let your guests decide. Have contest to see who can color in the best picture. Hang up all the entries to decorate the party! If you have a wide age range coming to the party, you could have different age categories.
Pizza Quiz
Check this pizza quiz and pizza trivia questions.  You can download them at the bottom of the post to use at your next pizza party!
Design Your Own Apron
This is an excellent activity for both children and adults. Even if you order pizza out or make your own pizza, the apron design is a great and fun way to keep guests entertained while you wait. Purchase low-cost plain aprons, fabric paint, markers, stencils, and glitter. Go for the glitter if you are up for the challenge of cleaning up excess glitter for weeks after the festivities.
Make Mini Dessert Pizzas
If you intend to provide the main course, have guests prepare dessert. Look up some dessert pizza recipes that include chocolate, fruits, and other sweets. Choose recipes that do not require baking for easy and quickly accessible desserts that can be enjoyed after lunch or dinner.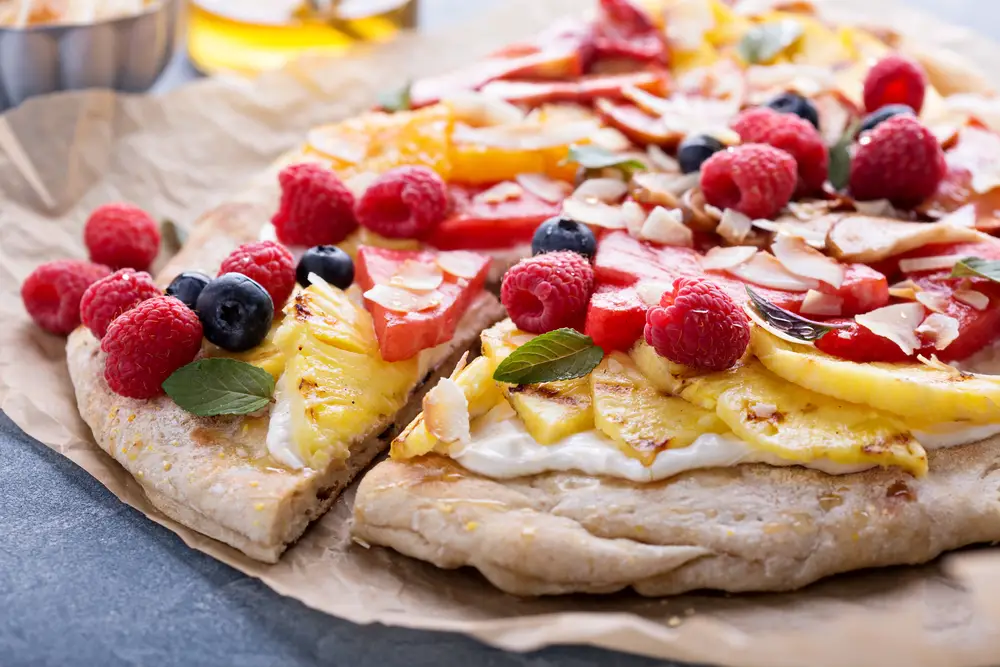 Pizza Boxes Assembly Race
Another great party game that would be equally enjoyable for adults and children is to buy empty mini pizza boxes or ask your favorite pizza place for a few free boxes. Leave the boxes unassembled and compete to see who can assemble them the fastest. To up the ante, give out small prizes.
Pizza Box Puzzle
Cut the top of your favorite pizza box into several small to medium pieces. Assemble the box top by mixing the pieces together. If you're feeling competitive, cut the box into smaller pieces and race to see who can finish the puzzle first.
Host a Painting Party
Painting isn't exactly a game, but it's a fun way to pass the time. Host a painting party where an instructor will guide guests to create a work of art to hang in their own homes. "Paint and Sip" parties and studios are becoming increasingly popular, so why not host one in your own home, where you can provide tasting pizza to munch on?
Pizza Hole
You've already finished your pizza, recycle it for a fun game of Pizza Hole (same as corn hole). So take a knife and carefully cut a hole in the top of your pizza box. It's time to play corn hole! Please refrain from using pizza slices as bean bags. Find an actual bean bag and challenge your friends to a game of cornhole.
The Ultimate Pizza Tower
Try to get everyone to bring an empty pizza box. Make a table for you and your friends to compete at. Start stacking pizza boxes together to see how high you can go before the tower collapses. Whoever stacks the most pizza boxes is the ultimate champion and should not have to pay for the pizza.
The Pizza Delivery Championship
Before you go out and start delivering pizza to strangers, here's how it works. Give each of your friends a pizza box and challenge them to get from point A to point B while balancing it on their heads. The winner wins one pizza box, while the loser must balance two pizza boxes. As people lose, keep adding boxes to see who can handle the most pizza boxes.
Pizza Charades
Once your charades teams have been formed, make a list of pizza orders on slips of paper. You can order pizzas that match your personality or strange pizza flavors to make things more difficult for your friends. Act out the different and crazy flavors. See which team knows the most about pizza and emerges as the ultimate charades champion. Just an idea: the losing team should pay for the pizzas.
Pizza Eating Competition
If you and your friends consider yourselves professional pizza eaters, organize a pizza competition to see who will be crowned the ultimate pizza eater. Don't worry; here are some pointers on how to win a pizza-eating contest and take home the pizza trophy.
Pizza Twister
Purchase a Twister carpet. Color-code the pizza toppings and order a pizza with each topping, for example:
Red = Pepperoni

Yellow = Onion

Blue = Mushrooms

Green = Peppers
Play Twister by the toppings rather than the colors. Whoever wins gets to choose their favorite pizza topping. And pick out the toppings for everyone else's pizza.
Truth or Pizza
We are sure you have played truth or dare before and are probably familiar with the rules. However, this game is delicious, and we will not blame you if you always choose pizza. But it never hurts now and then. For example, what is your favorite pizza?
These are just a few ideas for entertaining friends and family if you're planning your next pizza party.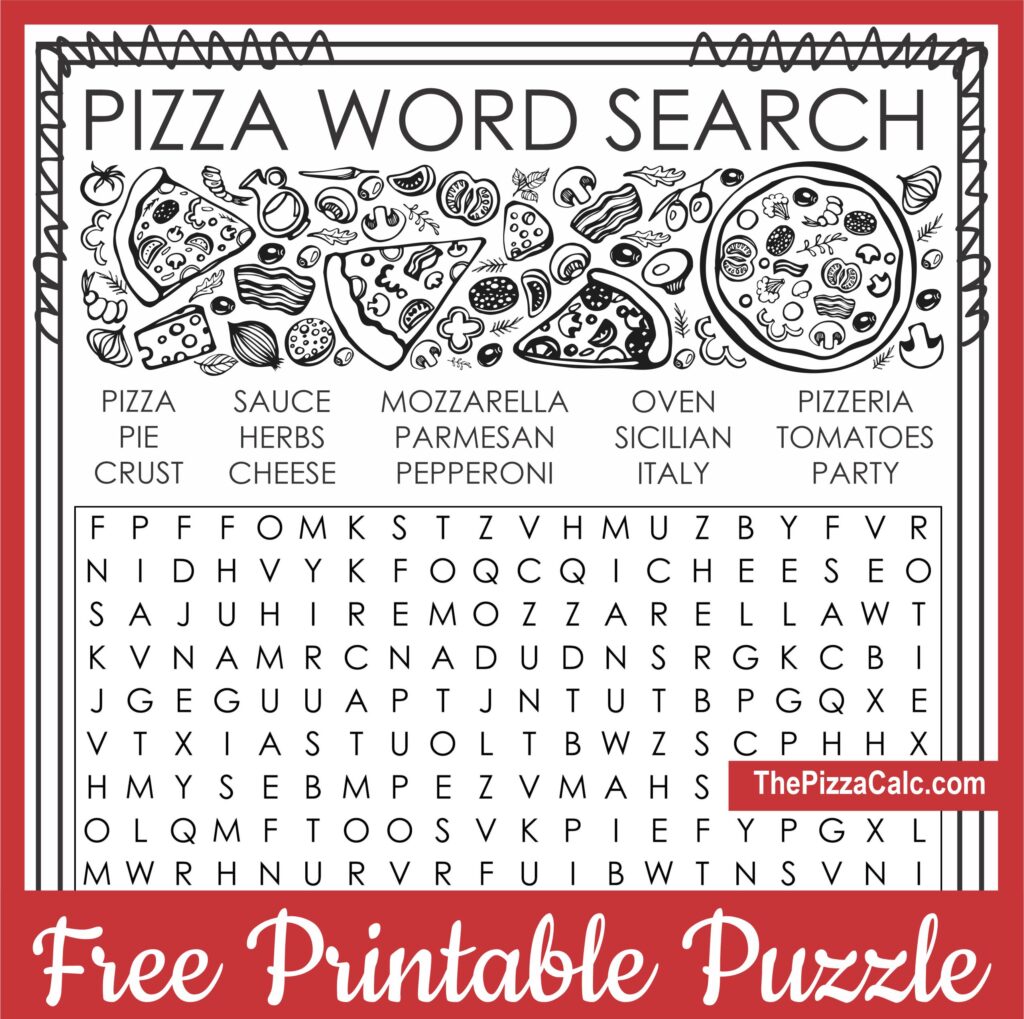 List of virtual pizza party ideas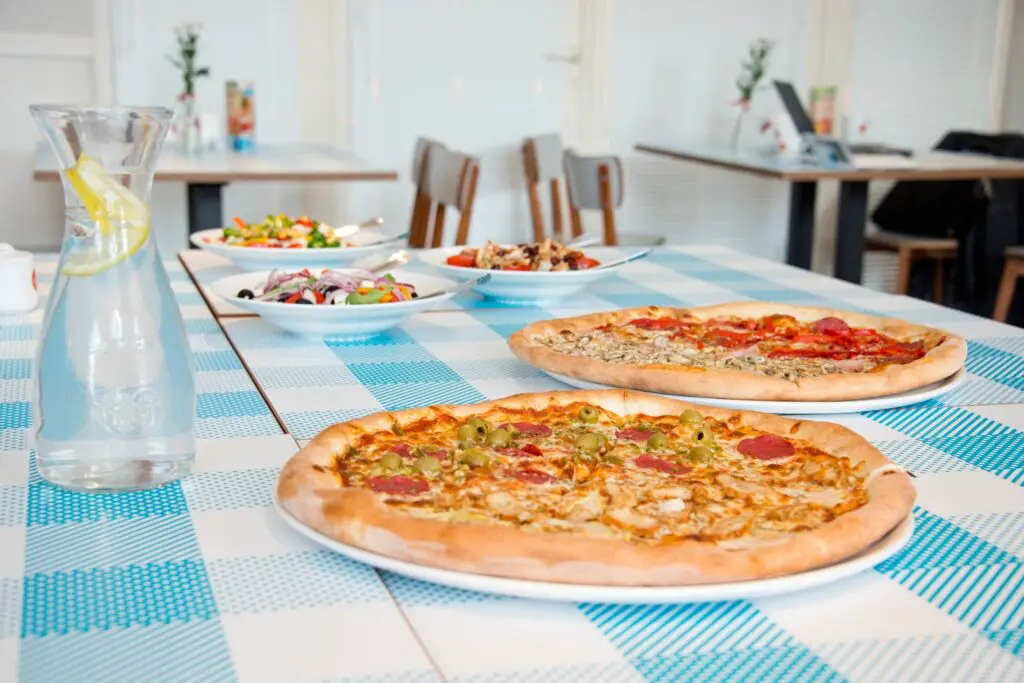 Here is a list of ways to have fun at online team pizza parties and to make them engaging, ranging from virtual make-your-own pizza parties to fun Zoom backgrounds.
Pizza Remote Lunch
One of the most basic online corporate pizza party ideas is holding a remote lunch or dinner party for teammates. First, schedule a virtual meeting and send the URL to employees. Then, inform colleagues that the company will provide attendees with pizza to enjoy while on a call. You could send guests a digital gift card to a pizza chain or meal delivery service or offer to reimburse employees for purchases made at their preferred pizza parlor. Stipends should be at least $30 to cover the order and delivery costs. When the event begins, teammates gather on Zoom to eat their slices and socialize.
Online Pizza-Making Workshops
Pizza-making One of the most interactive online pizza party ideas is zoom parties. Guests attend these events to learn pizza recipes and preparation techniques. You can send attendees ingredient kits or shopping lists. Then, a chef can step-by-step guide the group through the cooking process, and teammates will assemble these delectable masterpieces throughout the call. To make the event even more meaningful, have a small business owner serve as the head chef.
Pizza Decorating Contest
Pizza decorating competitions encourage teammates to demonstrate their culinary and artistic abilities. Employees will make a homemade pizza and artistically decorate it with exciting ingredients or fun designs. The content can have a theme, such as cartoon characters, or entrants can let their imaginations run wild. Competitors can prepare the pizza ahead of time and display their creations during the call. Alternatively, you can have participants upload photos to an online album ahead of time, ask coworkers to vote, and announce the winner at the event.
Virtual Pizza Tasting Experiences
Virtual pizza tasting experiences are online sampling events where guests try various pizza styles, pair pizza with beer or cocktails, or sample slices with various toppings and sauces. If your employees/friends all live in the same city, you might be able to find a nearby restaurant that sells sampler packs or is willing to put one together for you. Otherwise, you can make your kit by sending employees pizza or topping assortments, or giving guests a list of ingredients to gather. Get a pizza chef or industry expert to lead the group and provide recommendations on how to enjoy the dishes best, as well as facts about the food's history or insights into the industry.
Most Likely To
One of the most entertaining virtual pizza party games is Most Likely To. This exercise requires players to select a teammate who best describes themselves using pizza-themed statements. Players can respond by polling or typing their names into the chat.
Here are some Mostly Likely To prompts with a pizza theme. 
Most Likely To:
take the last slice

forget a frozen pizza in the oven

enjoy anchovies on pizza

get dough stuck on the ceiling

eat pizza twice in one day

have a pizza tattoo

open a pizza shop

 have a heated argument about pizza preferences

try out a strange flavor

pick tacos over pizza

have worked at a pizza shop

call pizza "za"

start an office pizza order
You can ask the employees to vote before the call and reveal the winners at the party.
Team Pizza Cookbook
Team pizza cookbooks are a fun, collaborative activity for pizza-obsessed remote workers. This activity requires each teammate to submit a recipe or a pizza tip. "Drizzle the pie with hot honey," or "Zeina's awesome Greek salad 'za." You can collect submissions using a Google Form and then collect the recipes into a digital book via programs like Canva, presentation software, or Indesign. Ensure to include interesting artwork and photos to make the anthology more interesting.
When the book is finished, print and mail physical copies to employees or email digital copies to teammates. The group can convene via video call to try out selected recipes or suggestions. You can also make a Slack channel where teammates can share thoughts on the cookbook and photos of the dishes.
Conclusion on Pizza Party Activities
Online pizza parties and pizza party activities in person are a low-key way to relax and spread camaraderie among work teams or catch up with distant friends. Find a suitable time to meet your friends/colleagues in person or on Zoom to share a few slices, chat, and play games and activities together to plan your event. Cover the costs of the pies for participants for the best results, and don't forget to take a picture or two!