If you're planning a pizza party and are wondering what dessert goes with pizza, you'll be glad to know that you have some seriously delicious options.
Desserts that are excellent choices for pizza are baked cheesecake Tiramisu, Chocolate Torte, Strawberry Granita and Salted Caramel Chocolate Pots. Chocolate mousse, Ice cream and doughnuts with chocolate sauce are some of the best desserts to pair with pizza. 
This article is about the best desserts that go exceptionally well with pizza. These desserts include traditional and authentic Italian desserts from American classics to the more unconventional and inventive. Choose based on the guests you'll serve and the overall vibe you want to create!

What Dessert Goes With Pizza?
We have some excellent options for you, from traditional and authentic Italian desserts to Classic American treats and more creative items. There is something for everyone. We guarantee you'll want to try more than one! Continue reading for more ideas and the best hints and tips for selecting the best pizza dessert.
1. Tiramisu 
We couldn't talk about the best Italian desserts without including tiramisu! This tiramisu recipe is prepared traditionally, as found in Italy or in the best and most authentic Italian restaurants.
It's rich and light, soft and creamy, and while you can make it in individual pots if you prefer, it slices beautifully, so if the presentation is essential, this is the dish for you.
2. Orange Polenta Cake
Polenta is used in cakes to give them golden color and a crumbly texture, and orange polenta cake is a popular dessert in Italy.
It's moist, rich, and bursting with zesty flavor, and it's one of the simplest cakes to make because there are no layers, filling, or icing.
The cake will easily keep in an airtight container for a week, though leftovers never last long in my house!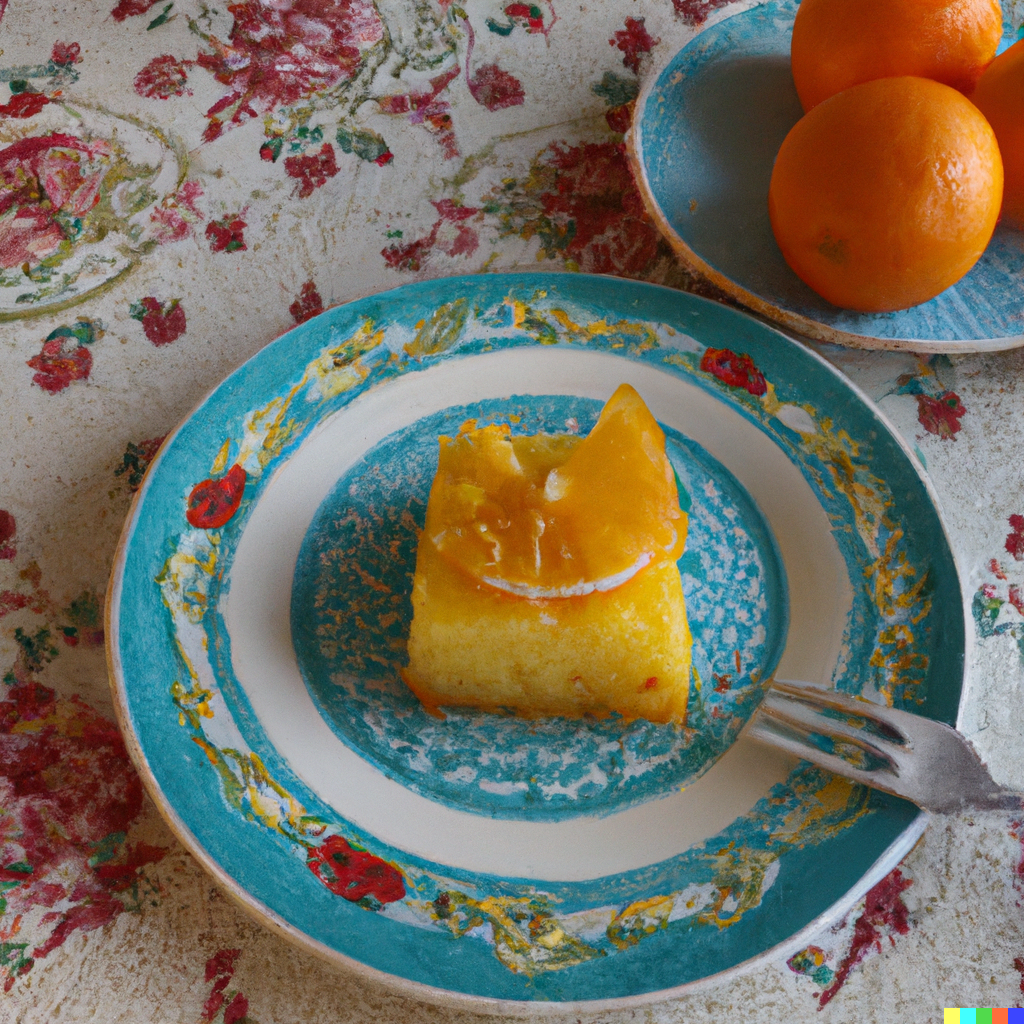 3. Ice Cream
Isn't it true that everyone enjoys ice cream? It's a delicious and easy pizza dessert that you can customize according to your preferences.
We like to start with a good vanilla ice cream and top it with strawberry, chocolate sauce, wafers, and sprinkles. Allowing people to create their desserts at the table is always fun, and it'll be a big hit with the kids!
4. Chocolate Mousse 
If you're wondering what dessert goes with pizza, chocolate mousse is a delicious make-ahead option for family dinners and gatherings. It's light enough to accompany a carb-heavy meal like pizza, but it still feels like a real treat.
This homemade chocolate mousse recipe rivals any pudding you'd find in a restaurant. You'll be using raw eggs, just like in tiramisu. We would still recommend that you give it a shot, even if this makes you feel icky. You can't taste the raw eggs, which contributes to the lovely texture.
5. Baked Cheesecake
Baked cheesecake has a different texture than unbaked cheesecake, so if you've never tried it before, why not try it for your next pizza party? This baked cheesecake recipe takes less than an hour to make and goes well with fresh fruit.
6. Fruit Tart
Do you want to end your pizza party with another fruity treat? So fruit tart it is! A sweet crust topped with a rich custard and fresh fruits; yes, that's the stuff! When you think about it, fruit tarts are similar to pizza but in dessert form.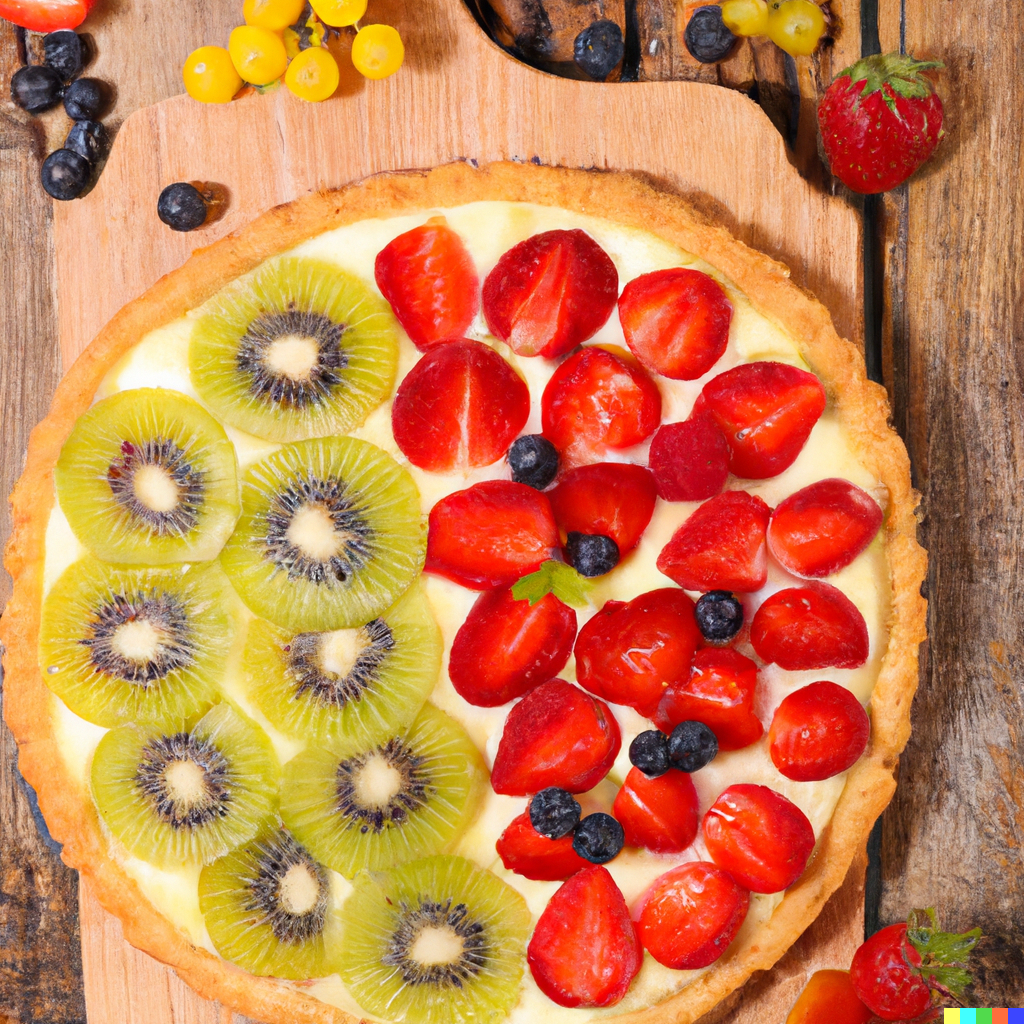 It's no surprise that these two guys get along so well! When it comes to this dessert, you can make it your own! You're good to go as long as you have the three essential components – crust, custard, and fruit. Choose your favorite fruit or custard flavor.
7. Torta Della Nonna (Ricotta & Lemon Tart) 
Make this torta della nonna tart to add a touch of sophistication to your pizza feast. It originated in Tuscany and consists of a sweet pastry base, a lemon and vanilla custard filling, and a light pastry lid decorated with pine nuts.
This simple Italian dessert is what makes it so beautiful. It demonstrates that you can take simple ingredients and turn them into something memorable with a bit of flair and creativity.
8. Chocolate Torte
This elegant and delectable chocolate almond tart is made with ground almonds and dark chocolate in this Italian chocolate torte recipe. 
It's easy to make, and there's no need to worry about more advanced techniques like piping. Chocolate torte is one of those recipes where the flavor intensifies and improves with age, so make it the day before your pizza party and store it in an airtight container overnight.
9. Jello & Custard
Okay, so I'm not claiming that jello and custard are authentically Italian, but it sure is a lot of fun! It's ideal for a party, children will love it, and it's one of the simplest desserts you'll ever make. For the nostalgia factor, you can serve yours in retro, 80s-inspired dishes.
10. Espresso Shortbread Cookies 
Espresso shortbread cookies are ideal for a quick sweet treat after a pizza meal. Serve warm from the oven with a cup of strong coffee. You can eat them just as plain or dipped in chocolate. In any case, they are a crowd pleaser!
11. Strawberry Granita
Strawberry granita is a fruity, slushy, colorful, and delicious frozen dessert! It's a lovely palate cleanser and a light and refreshing option to serve after pizza. You'll only need five simple ingredients, and it's a dish that everyone will enjoy, especially on hot summer evenings.
12. Doughnuts with Chocolate Sauce 
Doughnuts with chocolate sauce are another tasty option for pizza dessert. We prefer to bake my doughnuts rather than fry them because it is healthier and eliminates the need for deep frying. The dipping sauce is sweet but not overpowering, and the cinnamon sugar is irresistible.
13. Sweet Orange Pasta Bites
Pizza and pasta go great together, so why not put a twist on the classic and serve sweet orange pasta bites as a pizza dessert? It is a little out of the ordinary and will undoubtedly spark conversation among your guests.
Once you've mastered this recipe, it will most likely become one of your go-to options for dinner parties. It might be uncomfortable to wrap your head around the idea of sweet pasta, but keep an open mind, and you'll soon agree that it's delicious.
14. Salted Caramel Chocolate Pots
To enjoy salted caramel, try these salted caramel chocolate pots. The combo of salty and sweet flavors is a delight. While this recipe is simple, it can be prepared ahead of time. The result is impressive and ideal for catering to true food enthusiasts with a penchant for elegant desserts.
15. Chocolate Chip Cookies
What possibly could be better than pizza for dinner? It's simple: have chocolate chip cookies after! Call us a snob, but chocolate chip cookies are the best way to end any gourmet, rustic, or takeout meal!
Who can say no to thick, chewy cookies stuffed with chocolate chunks? They are the undisputed champions of dessert!
16. Fudge Brownies
Wow, just typing that made me drool. I'm utterly obsessed with brownies and am not ashamed to admit it. How can anyone say no to rich, chewy, fudgy, chocolatey brownies? They're the ideal complement to your pizza.
What's the best thing about brownies? They are the most forgiving baked treat ever! Nobody can mess them up because they're so simple to make.
There's no need to visit a Churreria to enjoy this popular treat. They are simple to make. So, go to your kitchen and prepare them yourself with ease for your pizza party!
17. Amaretti Cookies
These Italian almond-flavored biscuits are ideal when you want a sweet snack after your pizza but don't want anything too complicated or filling. You'll only need six ingredients, and they'll keep in an airtight container for up to two weeks.
19. Sorbet
Sorbet is an excellent option if you want something lighter but still want the goodness of ice cream. It is not as rich and creamy, but it's less guilt-inducing. To counteract that heavy meal, try fruit-flavored sorbets. Pineapple, lemon, and berries are excellent palate cleansers!
Final Words about What Desserts Go with Pizza 
What's not to love about pizza? Yes, for crisp and tender dough. Yes, for a sweet and tangy marinara sauce. Yes, for meat and vegetable toppings. Yes, for stringy, ooey-gooey cheese. Every bite is a piece of heaven! Even though pizza is always famous, it isn't complete without dessert. Indeed desserts come in handy in this situation.