Here is the ultimate pizza toppings list! These ingredient suggestions will help you create tasty, crowd-pleasing pizza pies. Are you looking for some ideas for a pizza night? Sure, you can put almost anything on a pizza. What makes the best, irresistibly delicious pies that everyone will adore? 
Here are 100 popular pizza topping ideas for consistently delicious pizzas. There's everything from classic Margherita and supreme pizza to inventive taco pizza, pickle pizza, and more. 
In this article, we will cover the best pizza toppings that you must try if you haven't. We have shared a bonus list of all the pizza toppings we could think of at the end. Are you ready to start cooking? So, let's jump into it. 
PS – if you need to entertain the kids or your guests, there are FREE pizza coloring pages that you can download.  One of them is a great coloring page of pizza toppings!
Popular Pizza Toppings List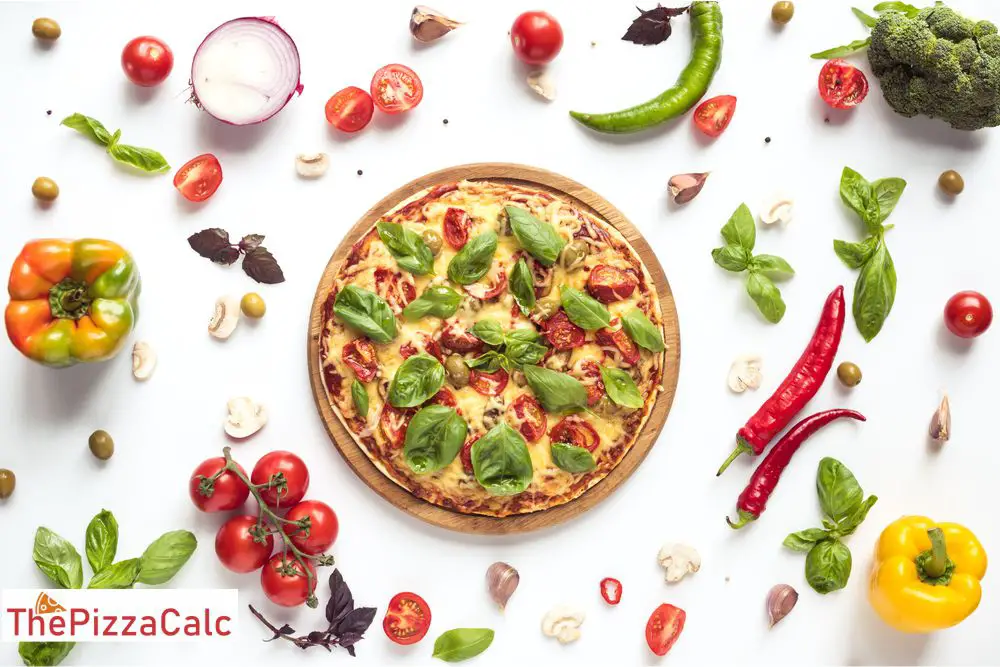 Margherita Pizza (Mozzarella & Basil)
One of the most famous pizza toppings of all time! Pizza Margherita! Pizza Margherita, invented in the 1800s, features the colors of the Italian flag: white from the mozzarella, red from the tomato sauce, and green from the basil.
Supreme Pizza
Another popular pizza topping is supreme pizza, though the exact definition varies depending on the pizzeria! It all starts with a pizza sauce and mozzarella cheese base. The most popular supreme toppings are pepperoni, green bell pepper, sausage, black olives, and red onions. Sautéed mushrooms or hot peppers are frequently added.
Cheese Pizza
Another one of the most popular pizza toppings? Pizza with cheese. This one tastes far superior to standard delivery pizza, combining our top-rated tangy pizza sauce with shredded mozzarella and fresh mozzarella to create the gooiest, cheesiest pie possible.
Spinach Artichoke Pizza
What about another tasty pizza topping? Artichokes! This spinach artichoke pizza is a pizza version of the popular hot dip. Brush the crust with oil before layering it with mozzarella, Parmesan cheese, garlic, sautéed spinach, and tangy artichoke hearts.
Taco Pizza
Taco pizza is a favorite pizza topping that recreates the taco experience on a pizza. This is a fan favorite that resembles the Pizza Hut special. So, the toppings include refried beans, Mexican-style cheese, tomatoes, black olives, green onion, and crunchy lettuce. Finish with crunchy tortilla chips and a drizzle of ranch dressing.
White Pizza (Pizza Bianca)
White pizza, also known as pizza Bianca in Italian, is a pizza that is made without red tomato sauce. Instead, it tops the dough with either a white-colored sauce or a fine brushing of olive oil. The white sauce can also be a cream sauce, such as alfredo, or soft cheese, such as ricotta. The base of this recipe is ricotta cheese mixed with garlic, mozzarella, and Parmesan cheese on top.
MORE PIZZA TOPPINGS LIST
Greek Pizza
Greek pizza is a vibrant pizza topping that is always a hit! The dough is topped with mozzarella cheese, tomato sauce, and a slew of vegetables, including spinach, black olives, tomatoes, and red onion. Add a generous sprinkling of feta cheese on top.
Breakfast Pizza
Breakfast pizza only means scrambled eggs on pizza! This popular pizza topping is a popular way to transform this beloved food into a breakfast meal. Add tomato sauce and mozzarella cheese to the dough, scrambled eggs, sausage (optional), bell peppers, and red onion. This is usually a kid-friendly pizza topping favorite!
Mushroom Pizza
With this pizza, go big on the mushrooms! This pizza topping recipe called for mushrooms sautéed with fresh thyme and oregano and finished with a squeeze of lemon. The dough is then topped with olive oil and mozzarella cheese. Add the dollops of goat cheese, mushrooms, and fresh herbs to taste. It's divine!
Pesto Pizza
Pesto is another popular pizza topping that doesn't require a recipe! Spread basil pesto on the dough base, then top with mozzarella cheese and thinly sliced fresh tomatoes. Add a pinch of salt to the tomatoes before cooking. Make your basil pesto to amp up the flavor.
Goat Cheese Pizza
What could be better on a pizza than fluffy dollops of goat cheese? (Not a lot.) This one has our best-selling tomato pizza sauce, mozzarella cheese, and generous dollops of goat cheese. Finish with fresh basil, and you've got yourself a winner.
Arugula Pizza
A fun and easy pizza topping? Arugula! It is one of the best toppings in our pizza toppings list. Bake any toppings you want. When the pizza has been baked, top it with peppery baby arugula, dressed simply with olive oil and salt. It gives each bite a fresh crunch! Make sure to use baby arugula for this; regular arugula is far too strong. Check out this Arugula and Balsamic Pizza.
Shrimp Pizza
Shrimp makes an unexpectedly tasty pizza topping. One of the best pizza toppings is garlicky, buttery shrimp against creamy ricotta, mozzarella, and Parmesan cheese. It tastes like shrimp alfredo on a pizza crust instead of noodles, and it's as delicious as it sounds.
Burrata Pizza
One of life's greatest pleasures is rich and creamy burrata cheese. So why not put burrata cheese on your pizza? The ultimate pizza is a traditional Margherita pizza topped with gooey burrata cheese. Slather the crust with our best-rated pizza sauce, then top with mozzarella and burrata cheese halfway through the cooking time. Garnish with fresh basil leaves and serve.
Pickle Pizza
Pickles on your pizza? This unique pizza features a creamy garlic dill sauce, gooey cheese, and tangy pickle bursts. It may appear strange: until you take the first bite. The flavors complement each other remarkably well.
Everything Basil Pizza
Are you a fan of basil? You have to try the Everything Basil Pizza! That means thick, garlicky homemade basil pesto slathered onto perfect pizza dough, then topped with gooey mozzarella and a heaping handful of fresh basil leaves. It's the most vibrant green pizza you'll ever make.
Jalapeno Pizza
Do you enjoy spicy pizza toppings? Jalapeno peppers are ideal for infusing your pie with a bright, zingy flavor. This pizza has a tangy salsa verde base and is topped with mozzarella cheese. Combine the heat of the jalapeno with savory zucchini and bright sweet corn for a one-of-a-kind pie.
Spinach Pizza
What is the best method to consume your greens? On the pizza! The garlicky, savory flavor dominates this pizza. Ricotta provides a creamy foundation, while mozzarella and Parmesan add stretchy texture and savory flavor. With herbed spinach and a few vegetables, it's a crowd-pleaser that everyone will enjoy.
Truffle Pizza
In search of gourmet pizza toppings? Truffle Pizza is a must-try! Truffle oil is earthy and intoxicating, transforming any dish into something nuanced and intriguing. So, this pizza is channeling that vibe: gooey mozzarella cheese, savory mushrooms, and an oil drizzle infusing the entire pie with luxury.
Avocado Pizza
Avocado on pizza may seem counterintuitive, but it works perfectly on this pie! Begin with a base of pizza sauce and mozzarella cheese, then layer on fresh bell peppers, red onion, avocado, and goat cheese. Sprinkle it with fresh basil after baking. It's both light and filling!
We hope our guide helps you choose your favorite toppings from our pizza toppings list.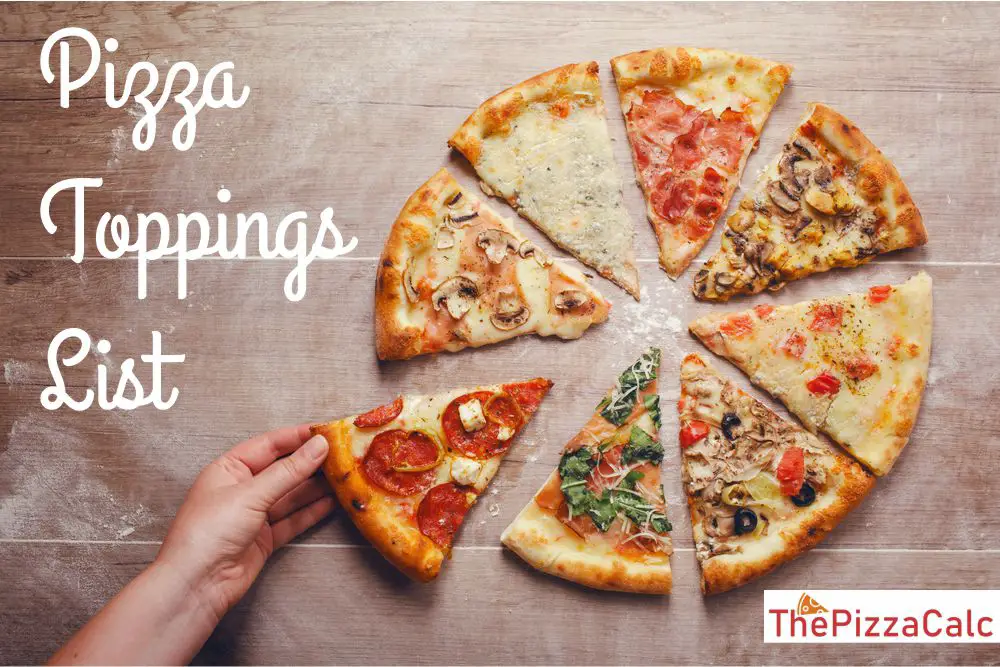 PIZZA TOPPINGS LIST
1. Cheese
2. Pepperoni
3. Sausage
4. Bacon
5. Ham
6. Salami
7. Chicken
8. Meatballs
9. Anchovies
10. Olives
11. Onions
12. Peppers
13. Mushrooms
14. Tomatoes
15. Pineapple
16. Spinach
17. Broccoli
18. Roasted Red Peppers
19. Jalapeños
20. Garlic
21. Basil
22. Oregano
23. Thyme
24. Sun-dried tomatoes
25. Kalamata olives
26. Feta cheese
27. Ricotta cheese
28. Gorgonzola cheese
29. Parmesan cheese
30. Mozzarella cheese
31. Cheddar cheese
32. American cheese
33. Blue cheese
34. Crab meat
35. Lobster meat
36. Shrimp
37. Tofu
38. Eggplant
39. Zucchini
40. Mac and Cheese
41. Buffalo Chicken
42. Philly Cheese Steak
43. BBQ Chicken
44. Hawaiian
45. Margherita
46. Meat Lover's
47. Veggie Lover's
48. Arugula
49. Artichokes
50. Chorizo
51. Pesto
52. Prosciutto
53. Balsamic vinegar
54. Olive oil
55. Roasted garlic
56. Buffalo sauce
57. Honey mustard
58. Barbecue sauce
59. Marinara sauce
60. Alfredo sauce
61. Pico de gallo
62. Salsa
63. Guacamole
64. Sour cream
65. Pulled Pork
66. Corned Beef
67. Cauliflower
68. Egg
69. Caramelized onions
70. Red Onions
71. Banana peppers
72. Green peppers
73. Hot sauce
74. Pears
75. Figs
76. Ranch dressing
77. Blue cheese dressing
78. Caesar dressing
79. Avocado
80. Sriracha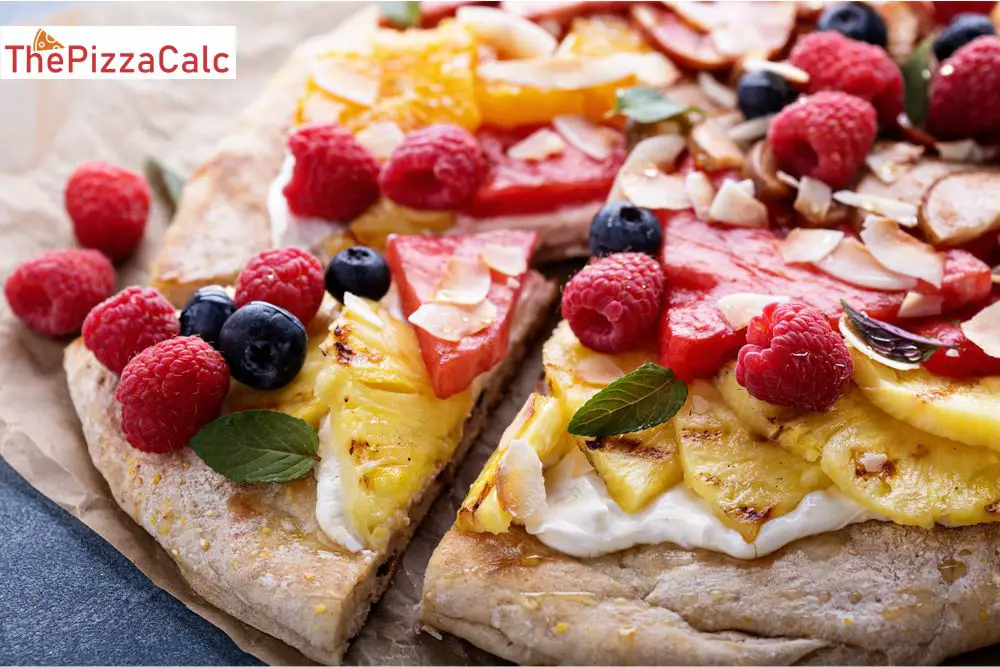 DESSERT PIZZA TOPPINGS LIST
1. Caramel
2. Chocolate chips
3. Marshmallows
4. Brownies
5. Oreos
6. Peanut butter
7. Whipped cream
8. Cinnamon sugar
9. Ice cream
10. Fruit toppings: strawberries, blueberries, raspberries, etc.
11. Chocolate sauce
12. Cheesecake bites
13. Honey
14. Maple syrup
15. Powdered sugar
16. Nuts: almonds, peanuts, etc.
17. Coconut flakes
18. Banana
19. Chocolate pudding
20. Vanilla pudding
Read even more about the BEST PIZZA TOPPINGS.

Keep the kids and adults busy at your next pizza party with this super FUN PIZZA ACTIVITY PACKET! Whether it be a pizza birthday party or a random Saturday night, these puzzles and activities will challenge and entertain everybody.