Arugula Balsamic Pizza is a delicious and healthy recipe that is perfect for any occasion. The arugula gives the pizza a nice peppery flavor, while the balsamic vinegar adds a touch of sweetness. This creative pizza is sure to please even the most discerning palate!
Ingredients for Arugula Balsamic Pizza
-1 ball of store-bought pizza dough or homemade pizza dough at room temperature
-2 tbsp balsamic vinegar
-1 tablespoon of extra virgin olive oil
-1/4 teaspoon of salt
-1/4 teaspoon of black pepper
-1 cup of fresh arugula
-1/4 cup of grated Parmesan cheese
-8 slices of salty prosciutto
-cherry tomatoes
Instructions for Pizza with Prosciutto and Arugula and Balsamic Vinegar
1. Preheat the oven to 450 degrees Fahrenheit or heat up your outdoor Ooni pizza oven.
2. Roll out the pizza dough on a lightly floured surface.
3. Transfer the dough to a baking sheet, pizza pan, or hot stone and brush with olive oil.
4. Sprinkle with salt and black pepper and the parmesan cheese.
5. Bake for 8-10 minutes, or until the pizza crust is crispy and golden brown.
6. Remove from the oven and let cool slightly.
7. Sprinkle the arugula and tomatoes on the pizza dough.
8. Add the slices of Prosciutto.
9. Add a drizzle of balsamic glaze. I recommend the traditional balsamic glaze or the fig infused balsamic vinegar.
10. Cut into slices and serve immediately. Enjoy!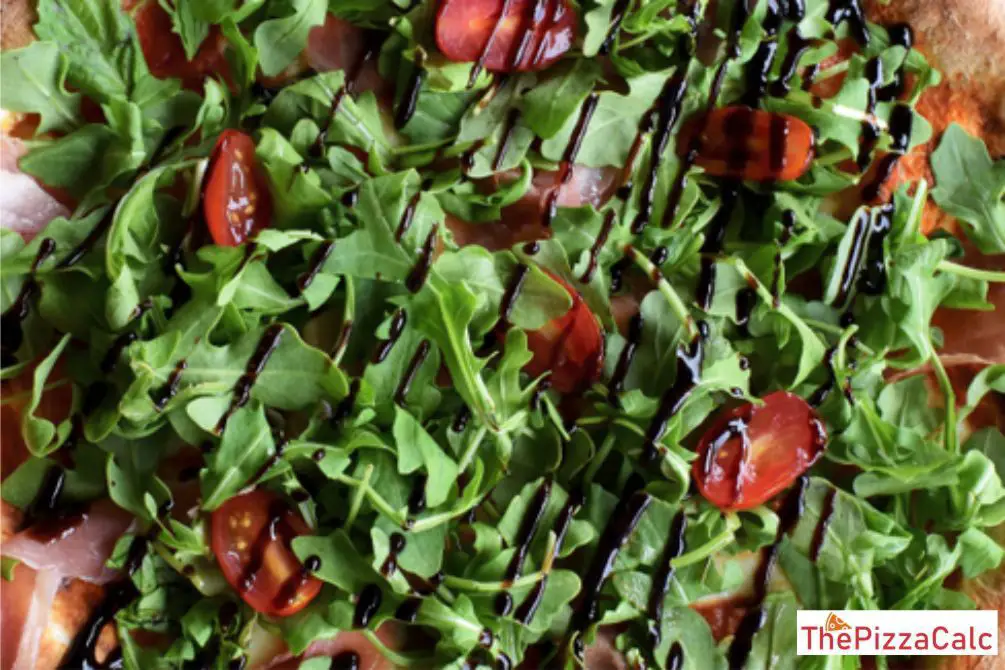 How to Modify the Recipe for Arugula Pizza
There are a few options to modify the recipe. For example, you can exclude the prosciutto is you prefer a vegetarian pizza. If you do not like parmesan cheese, you can substitute fresh mozzarella, shredded mozzarella cheese, or creamy goat cheese.
Want to change up your favorite toppings? Other flavors that would go with this delicious Arugula Balsamic Pizza are:
caramelized onions or raw red onion (don't use both!)
one fresh garlic clove on the olive oil
fresh figs
even layer of fig jam instead of cheese
fresh basil
small amount of tomato sauce.
Read more about the best two toppings for pizza.
The Most Important Ingredient for this Balsamic Arugula Pizza
Don't forget that that drizzle of sweet balsamic glaze is the key ingredient. It provides a slightly sweet taste on top of the peppery arugula and salty prosciutto. You can find regular balsamic vinegar in grocery stores. I have been purchasing my balsamic vinegar and olive oil from the Saratoga Olive Oil Company, and I highly recommend it.
Fortunately, I live near Saratoga so can visit the store often. I just recently traveled to the Burlington store and bought a variety of balsamic vinegars and they are delicious on pizza! Don't live near those areas? Don't worry – you can order online too!
When to Serve Arugula Prosciutto Pizza
This pizza is great for a party appetizer, to jazz up your next pizza night, or any night you want to expand your palate and try something different!
Feeling adventurous? Try this Pear and Brie Pizza recipe.