Are you looking for a fun way to raise money for your next cause? Why not check out these pizza fundraiser ideas? Pizza is a crowd favorite, and there are plenty of ways to make it work for your fundraiser. Keep reading for our top tips on how to make the most of your pizza fundraiser.
Why host a pizza fundraiser?
Pizza is a classic comfort food that everyone loves. It's also easy to make in large quantities, which makes it a great option for fundraisers. You can either sell whole pizzas or pizza by the slice, and there are plenty of ways to get creative with your offerings. For example, you could have a toppings bar where people can customize their own pizzas, or you could offer a variety of specialty pizzas.
Another great thing about hosting a pizza fundraiser is that it's a relatively low-cost option. Pizza has decent profit margins. You can either make the pizzas yourself or purchase them from a local pizzeria. Either way, you'll be able to get a lot of bang for your buck, which is important when you're trying to raise money for a cause. It is one of the more profitable fundraisers.
Tips for a successful pizza fundraiser
1. Keep it simple. Don't try to get too fancy with your pizzas. Stick to classic flavor combinations that people will love. Keep your order forms easy to read and fill out. Also, don't forget to reach out to your local pizza shop and ask if they would provide some free pizza for your fundraising events.
2. Make sure you have enough pizza. It's always better to have too much pizza than not enough. No one wants to see a group of hungry people leaving your fundraiser empty-handed.
3. Advertise, advertise, advertise. Make sure everyone knows about your fundraiser ahead of time so they can plan to attend. Use social media, flyers, and word of mouth to get the word out.
4. Offer a variety of payment options. Not everyone carries cash these days, so it's important to have other payment options available. You could set up a PayPal account or use a service like Square to process credit card payments.
5. Have fun! Pizza fundraisers are meant to be fun, so make sure you enjoy yourself. Your positive attitude will be contagious and will help make your fundraiser a success.
By following these tips, you're sure to have a successful pizza fundraiser that everyone will enjoy. So get started planning today!

Pizza Fundraiser Ideas
Here are several pizza fundraiser ideas:
Buy whole pizzas and sell them by the slice at your events.
Try a pizza kit fundraiser. Sell pizza-making kits for at-home use – certain companies like Little Caesars Pizza Kits can make it super easy and a great fundraiser.
Contact your local restaurant and see if they will donate any pizzas or supplies
Sell pizza dough.
Host a Make Your Own Pizza Night.
Charge a fee for a pizza dinner night and include entertainment.
Host a Parents Night Out and charge to babysit the kids. Serve pizza, watch a movie and play pizza-themed games!
Host a Pizza and Bingo Night.
Have a pizza-eating contest.
Host a DIY pizza night and have a toppings bar.
Pizza Fundraising Cards – check with your local delicious pizza restaurant. Will they allow you to sell discount cards for their pizza as a food fundraiser for your community organizations?
Sell frozen pizzas that can be cooked at home.
These are just a few ideas…use your imagination and get creative!Pizza fundraisers are a fun and easy way to raise money for your cause. With a little planning, you can make your fundraiser a success. So get started today!
Additional food and drink options for your pizza fundraiser
Your fundraiser can be even more successful by offering additional food and drink options for your guests. Consider adding a few pizzas with different toppings, as well as some non-pizza items like chicken wings or salad. How about desserts for your pizza fundraiser?
Offering a variety of beverages will also help to attract people to your event. Be sure to have plenty of water and soda on hand. You may also want to consider offering a wine or cocktail option for your adult guests.
By providing a variety of food and drink options, you'll be sure to please everyone at your fundraiser!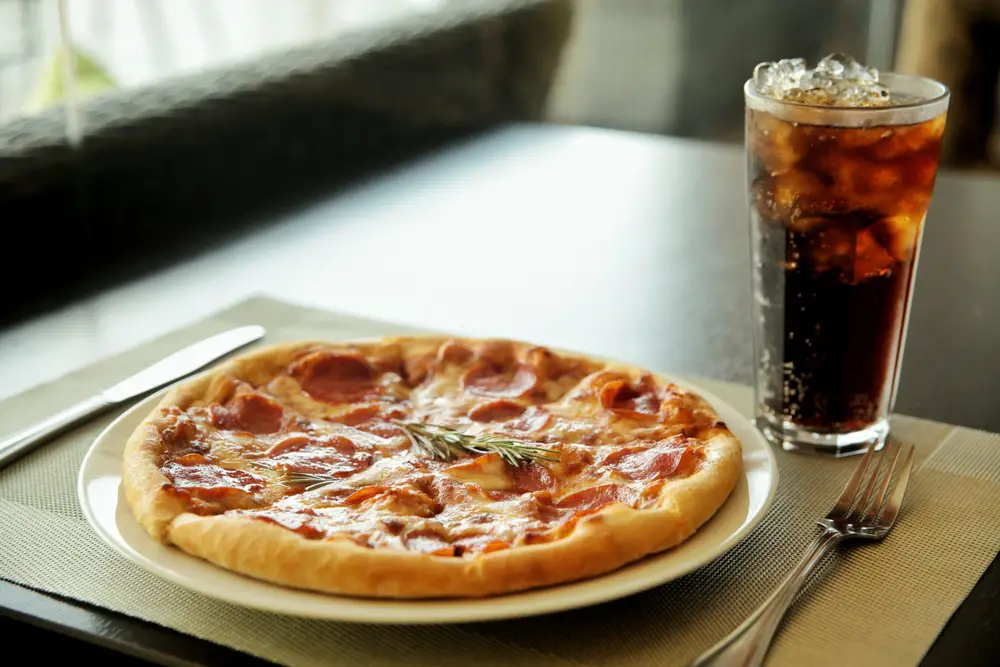 Prize ideas for your pizza fundraiser
Your fundraiser can be even more successful by offering prizes for those who donate. Consider offering a prize for the person who donates the most money, as well as a prize for the person who eats the most pizza. You could also have a raffle with different prizes that people can win.
By offering prizes, you'll be sure to get people excited about your fundraiser and encourage them to donate!
Who Should Use These Pizza Fundraiser Ideas?
Whether you are part of nonprofit organizations or have a different fundraising goal, here are some groups that may benefit from a pizza fundraiser:
nonprofit organizations
youth group
sports teams
elementary school
high school fundraisers
church
scouts and more!
How to promote your pizza fundraiser
There are a few ways that you can promote your pizza fundraiser. You can start by spreading the word to your friends and family. Social media is also a great way to promote your event. Be sure to create an event page on Facebook and invite all of your friends. You can also use Twitter and Instagram to promote your fundraiser.
Another great way to promote your fundraiser is by hanging up fundraiser flyers and posters around town. You can put them up in local businesses, as well as in public places like schools and libraries.
By promoting your best fundraiser, you'll be sure to get many people interested in attending!
Choose One of These Pizza Fundraiser Ideas Today
Get started today with on of these great ideas to support your non-profit group or local schools. It is one of the best ways to support a great cause. Everyone loves pizza from younger children to adults. You can make it simple and order kits or be a part of the entire process and make the pizza yourselves. What ever your choose, selling pizza is an easy fundraiser for any size group!
Want to make healthy options? Check out these ideas on Pizza Toppings for Kids for your next fundraiser.