This is the homemade pizza dough recipe that I use in my house – Grandma Pizza Dough Recipe. It's a family favorite and I'm excited to share it with you! It is not from my grandma though! My mom taught me how to make it but she is my children's grandma! It is just super easy to make with simple ingredients you should have in your pantry. This recipe makes enough dough for two 12-inch pizzas. This dough is not as thick as sicilian pizza or pan pizzas.
Ingredients for the Grandma Pizza Dough Recipe
As I mentioned the great part about this recipe is you should have all the stuff sitting in your cabinet or fridge if you cook at home most of the time. If you eat out a lot, you will most likely not have active yeast so you will need to buy that. I usually buy a few packets at a time because they store well for a long time.
Ingredients for the Grandma Pizza Dough Recipe:
-1 packet of active dry yeast
-1 cup warm water
-3 cups all-purpose flour
-1 teaspoon salt
-2 tablespoons of olive oil
How to Make the Grandma Pizza Dough
Here is how I make this dough. Sometimes I do pull out the Kitchen Aid mixer with the dough hook but other times I just do it by hand. I will provide the directions for making this pizza dough by hand. Remember it takes one hour for dough to rise so plan in advance.
STEP ONE: Dissolve the Yeast
Combine water with the active dry yeast. It must be warm water. Stir it with a fork and let it sit for a few minutes.
STEP TWO: Add the Olive Oil
Once the yeast has dissolved, add the 2 tbsp olive oil. Pour this into a large bowl.
STEP THREE: Add the Flour and Salt
Add 1/2 cup of flour with the tsp of salt into the mixing bowl with the water and yeast. Mix it with a wooden spoon.
Gradually more flour, about 1/2 cup at a time, and continue to mix it.
STEP FOUR: Knead the Dough
When you get to the end of the mixing in the flour it becomes too hard to stir with the spoon. Flour your countertop a little bit and put the dough on the lightly floured surface. Add more flour and knead the dough with your hands to mix it all in to create a nice ball of dough.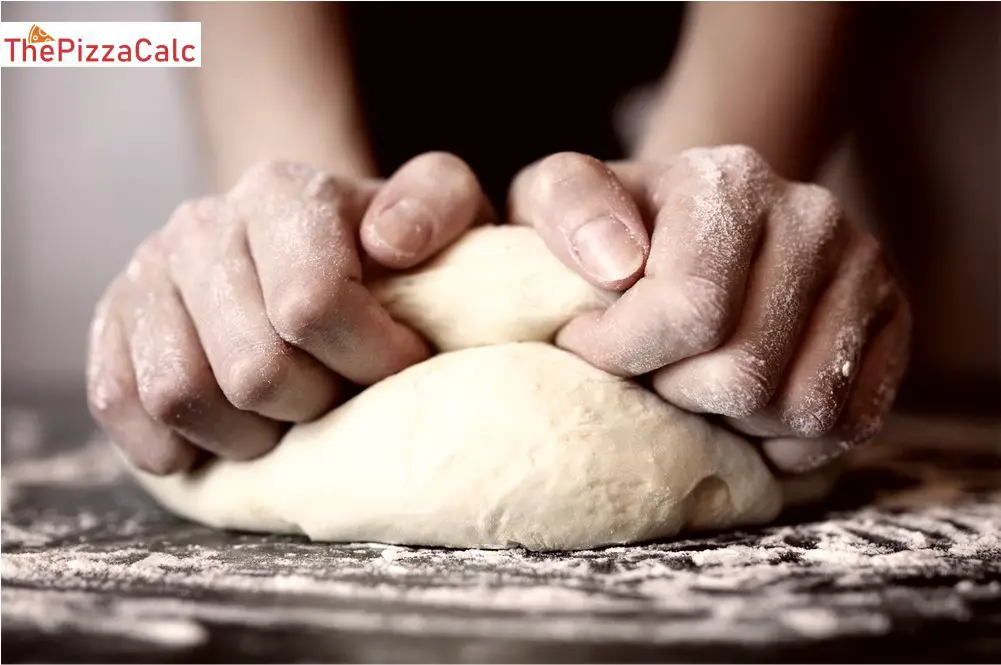 STEP FIVE: Let the Dough Rise
Spray another bowl with olive oil spray. Put the dough in the lightly oiled bowl. Cover dough with a cloth napkin, plastic wrap, or wax paper. Let the dough rise in a warm place for about one hour. I usually turn the oven on low, turn it off, and then let the dough rise in the oven.
Once the dough rises the pizza dough is ready to be used! Stretch it to the edges of the pan and put it on a rectangular baking sheet, square pan, or 12″ round pizza pan. Cook the sheet pan pizza at 400 degrees in your home oven with your toppings for about 10-15 minutes. This will depend on whether you prefer a crispy crust or a softer crust. To troubleshoot cooking the pizza read more here.
Topping Ideas for Grandma Pizza Dough
We use this pizza dough recipe with lots of different toppings you can put on top of the dough for this grandma-style pizza:
traditional tomato sauce and mozzarella cheese
blue cheese dressing, buffalo chicken and mozzarella cheese
butter, pan fried mushrooms, kosher salt, black pepper, and cheese
butter, garlic, broccoli and parmesan cheese
BLT pizza – mayo, lettuce, tomato and bacon
Salad pizza – lettuce, tomato, cucumber, olives, roasted red pepper, olive oil and vinegar
BBQ chicken – barbeque sauce, chicken and cheese
and lots more!
This Grandma Pizza Dough Recipe is a family favorite in my house. I love that it is so easy to make with ingredients I usually have on hand. The dough only takes one hour for rising, so you can plan in advance. Plus, there are lots of different topping ideas that you can use with this recipe!
RELATED POSTS
Grandma Pizza vs Caprese Pizza
Grandma Pizza Vs Margherita Pizza