The pizza party theme is fantastic; after all, who doesn't like pizza? What's the best part? It's appropriate for various parties, including birthdays, baby showers, movie night parties, and friends enjoying great pizza and games. Let us not forget to prepare a party goodie bag filled with pizza party favors for at the end of the party so that every person goes home with a smile. 
Pizza Party Activity Packets, Scratch-and-Sniff Pizza bookmarks, Make-A-Pizza Stickers, Pizza Roll Stickers, and Pizza Socks are some excellent choices for pizza themed favors. Pizza Bandages for Kids and Pizza-Themed Candy Bars are also some great options.
This article is about the best pizza party favors to have at a party. We have also discussed the decorations that go with the pizza theme party. So, we have chosen 12 pizza favors and 8 decoration ideas for you in this article. This post contains affiliate links which means if you purchase something I earn a small commission fee.  THis is at no cost to you.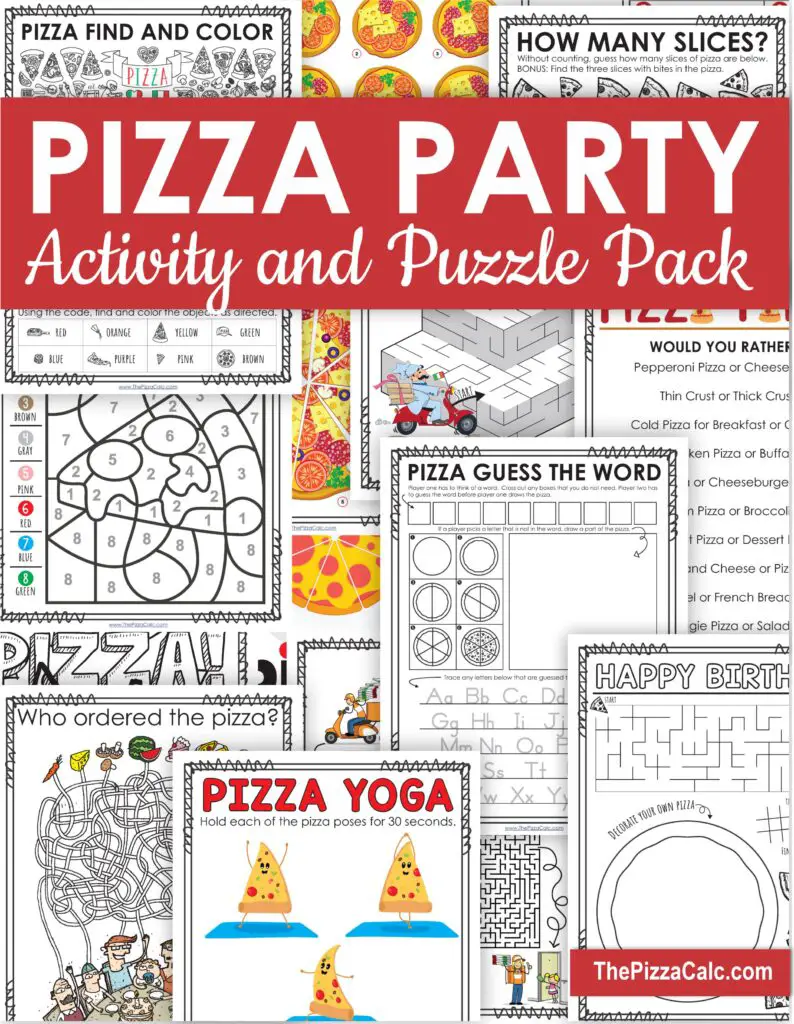 Most Fun Pizza Party Favors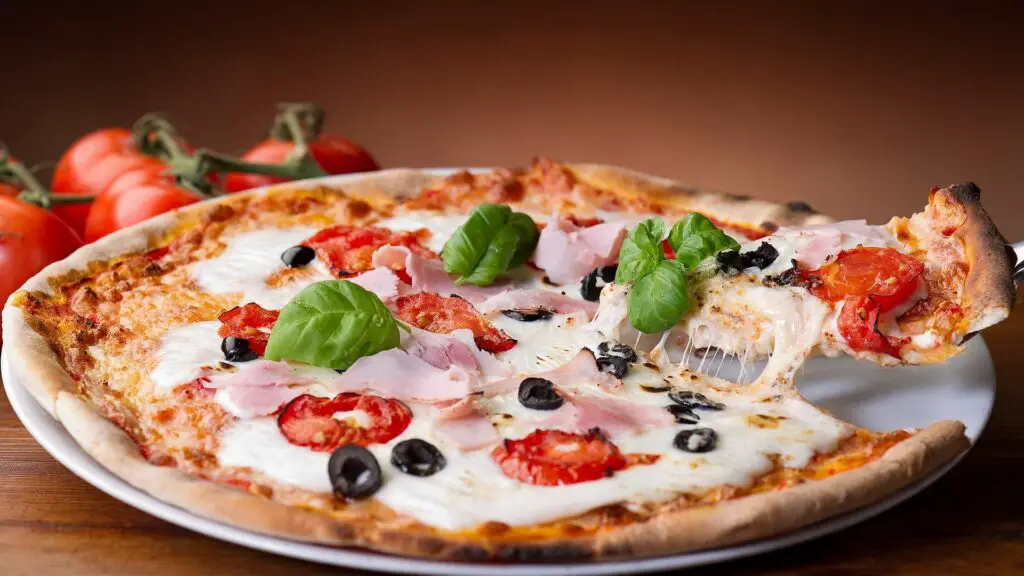 Pizza Activity Packet
Need an idea in a hurry? Like you need it right this second? This is a super economical way to provide a pizza party favor. Download this Pizza Activity and Puzzle Packet.  Print a copy for each guest and you are all set to go!

Make A Pizza Stickers
If you're looking for pizza party favors for kids, these Make-A-Pizza Stickers are a great choice. With these stickers, kids will have many opportunities to express their creativity. Kids will love creating pizza boxes with their favorite toppings and decorations, just like a pro chef. It's ideal for a fun pizza activity.
Scratch-and-Sniff Pizza Bookmarks
The pizza party theme is always a hit, whether for a baby shower or a birthday party. If you have pizza-loving children attending the party, you can give them these adorable pizza bookmarks. It will be exciting to have these pizza-scented bookmarks, and they will smell like a super delicious pizza while kids are reading their favorite books.
Mini Pizza Party Favors Box
These mini pizza boxes for party favors will undoubtedly capture children's attention! You must fill them with different cookies, chocolates, and candies and pack them like a regular pizza box. When kids open these mini pizza boxes, they will be greeted with a slew of surprises, cookies, and candies.
Kids Apron Chef Hat Set
Many children among us admire and respect the profession of a chef. So, before you let them show off their culinary skills and expertise, this apron hat chef set is the ideal gift. You can be confident that the children can use it in their daily lives, such as doing housework or baking delectable pizza recipes with their parents at home.
Pizza Roll Stickers
These pizza roll stickers are another great way for kids to express their creativity. For example, kids will need a piece of paper, crayons, colors, a pen, and realistic pizza stickers to DIY their creative pizza menus. These pizza stickers are bright and lively and will quickly capture children's attention.
Gummi Pizza
It's the ideal time for a pizza party! Have you made pizza-themed party favors yet? If not, here's an excellent option for you! These gummy pizzas are nothing more than pizza-themed Gummi candies ready to immediately satisfy your child's sweet tooth! Each box contains a mouthful of fruity, flavorful, and sweet candy pizza slices.
Pizza Socks
These colorful pizza socks are the best pizza favors for your pizza fans at the party. These pizza socks are not only brightly colored and appealing, but they also resemble authentic pizza. So, if your guests are pizza fans, they will enjoy these pizza-themed socks. Apart from being cheerful and colorful, these pizza socks are a practical gift for the recipients because they will be able to use them for many years!
Pizza Mini Flying Disks
Pizza Mini Flying Disks are unquestionably another inventive and intriguing pizza birthday party favor for children. Kids and their friends can have fun with these flying disks. It can lead to a delightful outdoor game! Furthermore, because the design is based on the pizza theme, it is an ideal addition to any pizza party decoration.
Pizza and Side Dishes Keychains
These keychains can be cute and functional ways to express your love of fast food. These keychains depict fast food characters such as pizza, soda, popcorn, French fries, sandwiches, and other side dishes. These keychains are long-lasting and simple to clean. Furthermore, children can easily attach them to their wallets, bags, backpacks, and other items.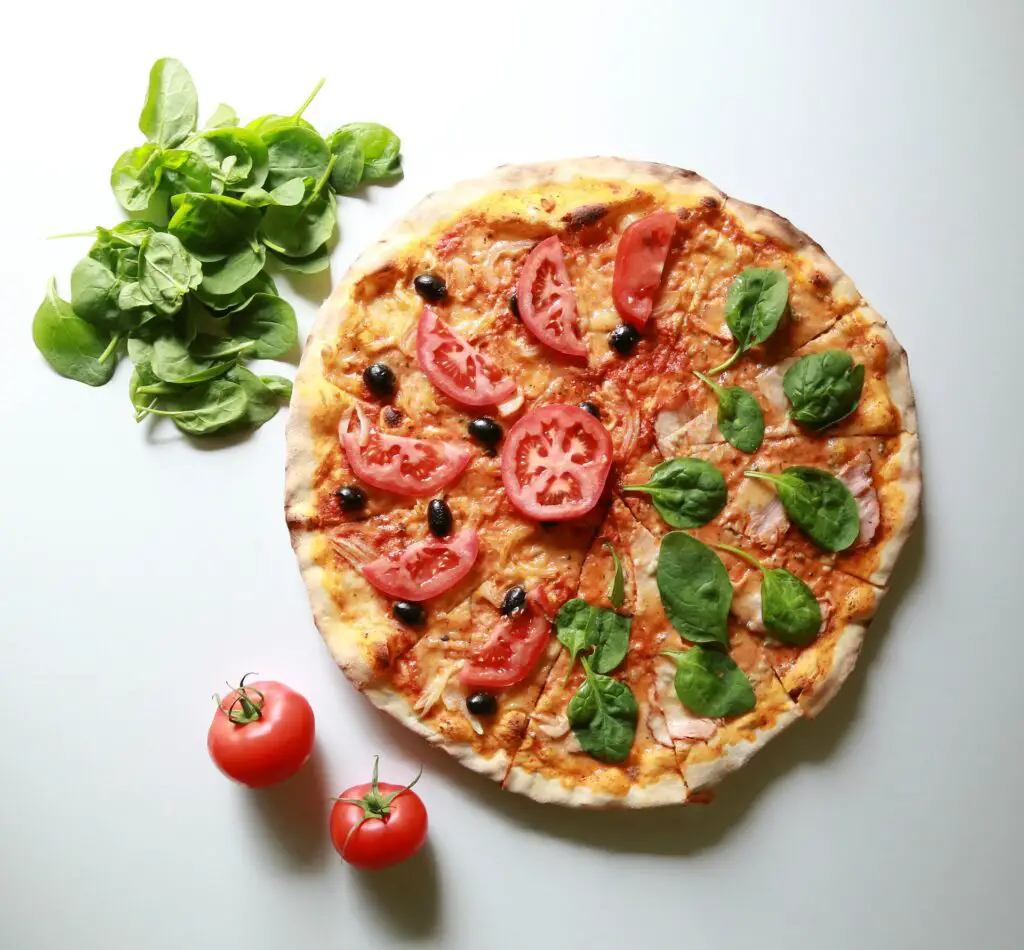 Pizza Bandages for Kids
Pizza party supplies should be unique and exciting. That is why we created these pizza bandages for kids. The children can use them in different ways. First and foremost, these bandages can be used like any other standard bandage kit. Second, these pizza bandages can protect and cover minor cuts and scrapes. Third, these bandages include a non-stick pad that prevents the bandage from sticking to the wound and allows it to be gently removed when not needed.
Pizza Themed Candy Bar
We all know that children adore candy bars! That's why we've come to give them these pizza candy bars. Pizza-themed candy bars are guaranteed to satisfy your sweet tooth. You can buy regular chocolate bars and wrap them in this pizza-themed candy bar wrapping paper to make a beautiful pizza candy bar.
Pizza Slice Ring Toss Games
The best indoor games for kids are these pizza-slice ring toss games. One pizza stand and several rings are included in each pack. The stand is placed on a tabletop, and the rings are aimed through it. This toss game will be won by whoever has the best aim.
Pizza Goodie Bag
We discussed twelve unique pizza-party goodie bag ideas in the preceding sections. Please remember to include these pizza box party favors/pizza birthday party favors in a goodie bag. We chose a lovely pizza goodie bag to match the theme. It's ideal for all pizza-themed party supplies, such as a birthday party or a baby shower.
Decorations For Giving Pizza Party Favors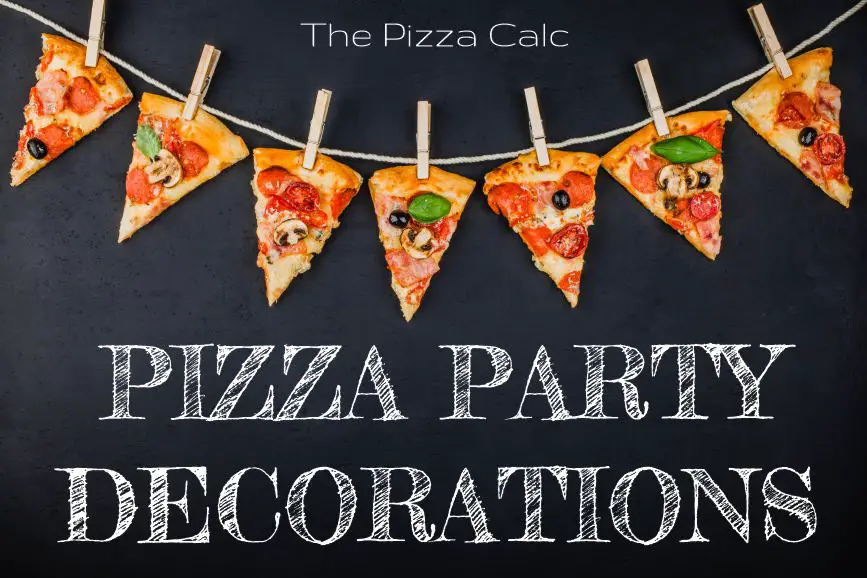 A pizza theme is always a good idea for a party, and the possibilities are endless, ranging from a birthday, baby shower, bridal shower, graduation party, dinner party, stag do party, and so on. This section will cover pizza party decorations ideas to help impress your guests by creating a stunning party atmosphere.
Pizza Shop Party Backdrop
Do you want a perfect welcome sign for your visitors? If so, this backdrop can serve as a significant welcome sign for guests while indicating that they are now in the pizza shop, which is the party venue. This is appropriate for any pizza-themed party decorations. And without a doubt, this is an ideal backdrop décor for photographing and then sharing on social media platforms.
Pizza Party Welcome Yard Sign
What pizza party decorations should you have? Well, it must include a pizza-themed welcome yard sign. Keeping this in mind, we have selected this product for you that depicts "Welcome to the Pizza Party." With this welcome sign, you can inform your guests that there is a delicious pizza party nearby. You can be confident that this product is appropriate for all pizza party theme decorations, such as a baby shower, birthday party, or casual dinner party.
Pizza Lawn Decorations
We have already discussed pizza party decoration ideas for greeting guests. You will only reveal an inventive pizza lawn decoration idea this time. These lawn pizza lawn decorations will create a lovely and exciting party atmosphere as your esteemed guests walk through your garden. Pizza slice shapes, pizza time (words) shapes, pizza shapes, and sturdy metal stakes are among the decorations.
Happy Birthday Pizza Front Door Banner
If you're planning a pizza birthday party, here's one of the best pizza party decorations. It's an excellent addition to your party decor and will quickly capture the attention of any guest! A quick review of this product, the banner features the Happy Birthday tagline and loads of pizza slices that are randomly decorated.
Pizza Balloon Garland with Slice Slice Baby Balloons
Suppose you are planning a pizza-themed party for baby shower celebrations. In that case, this will undoubtedly be the much-needed party decorations because the atmosphere at a baby shower should be colorful, cheerful, and vibrant. As a result, this balloon garland stand will add a great vibe to the party! The garland kit contains a variety of latex balloons in green, white, gold, and red.
Highchair Banner for First Birthday Party
Is your child getting ready for their first birthday? If so, feel free to use this pizza-party time highchair banner to throw the best-ever first birthday party. You and the guests can use them as a prop in photos or as background decoration. It will add a lot of excitement and fun to the party! Furthermore, your child will be overjoyed with this banner decoration.
Pizza Slice Shaped Balloons
Whether you're looking for pizza or birthday party decorations, these pizza slice-shaped balloons are a great option to include. These adorable patty pizza-shaped balloons (all made of high-quality foil) will ensure that your party has a perfect display to showcase a cheerful and charming atmosphere. These pizza balloons say "Have a Supreme Birthday" – an ideal decoration for any kid's or adult's birthday party.
Vintage Pizza Restaurant Sign
This vintage-looking pizza restaurant sign is ideal for an adults-only party because it creates the impression that we are all having this party at a restaurant. The poster depicts a restaurant's ideal pizza setup area, including the prominently displayed pizza zone and standard pizza seats to welcome guests. This setup is unquestionably the best option for any pizza party table decorations!
Conclusion
Pizza Party Favors are a great way to make a pizza party exciting and fun. The guests always leave with a smile when they have had great food and an exciting gift. Don't forget to set up suitable decorations for the event, as they add a spark to the vibe.
Check out Pizza Birthday Party Ideas here.