Do you need a fun party idea? Choose a date, invite your friends, and plan a successful get-together. If it's a birthday party, we still got you covered! Whatever toppings you choose, each make-your-own pizza will be Instagram-worthy and delicious! Planning a party can be difficult, whether housewarming or a pizza themed birthday party. After all, there's a lot to plan, from inviting guests to selecting a theme to prepare delicious food for everyone. It's a lot to handle, but there is an elegant and simple solution: A pizza party! After all, who doesn't enjoy a good slice of pizza? 
Throwing a pizza-themed birthday party involves a lot of planning. Setting up party decorations that follow various national pizza themes is an excellent idea. Having pizza-based games is a great choice to add spark and fun to any pizza-themed event.
In this article, we will talk about the significant components of throwing a fun pizza-themed party. The components are divided into parts, from decorations to exciting varieties of pizza to side dishes and pizza-themed-based games. Disclosure: Some of the links below are affiliate links. This means that, at zero cost to you, I will earn an affiliate commission if you click through the link and finalize a purchase.
Getting Started with Your Pizza Themed Birthday Party
The pizza party has become almost legendary and is as famous for children's birthdays as it is for adults at work. The only issue is that they are so popular now that yours may appear stale. It is the last thing you want when dealing with pizza.
So, are you ready for our pizza themed birthday party ideas, friends? Let's look at some fun and creative pizza party ideas to help you cook up a fantastic event, no matter the occasion! Let's do this!
Show-Stopping Pizza Party Decorations
Decorating your party is a great way to make it stand out, and sticking to a pizza theme gives you plenty of options.
Go Geographical
You can draw inspiration from the various pizza capitals of the world to bring your party's décor to life, whether it's Italy or the famous pizza cities of Chicago or New York!
Pizza Prints
Print pizzas on your tablecloths, napkins, plates or even party hats to ensure no one forgets how much you adore pizza.
Pizza Slice Bunting
This one is a no-brainer, allowing you to hoist your pizzas into the sky proudly!
Fun-Filled Pizza Party Games and Activities
No party is complete without enjoyable activities, whether to work up an appetite or burn off some energy (or calories!). Make some unforgettable memories by playing some of these pizza-themed party games!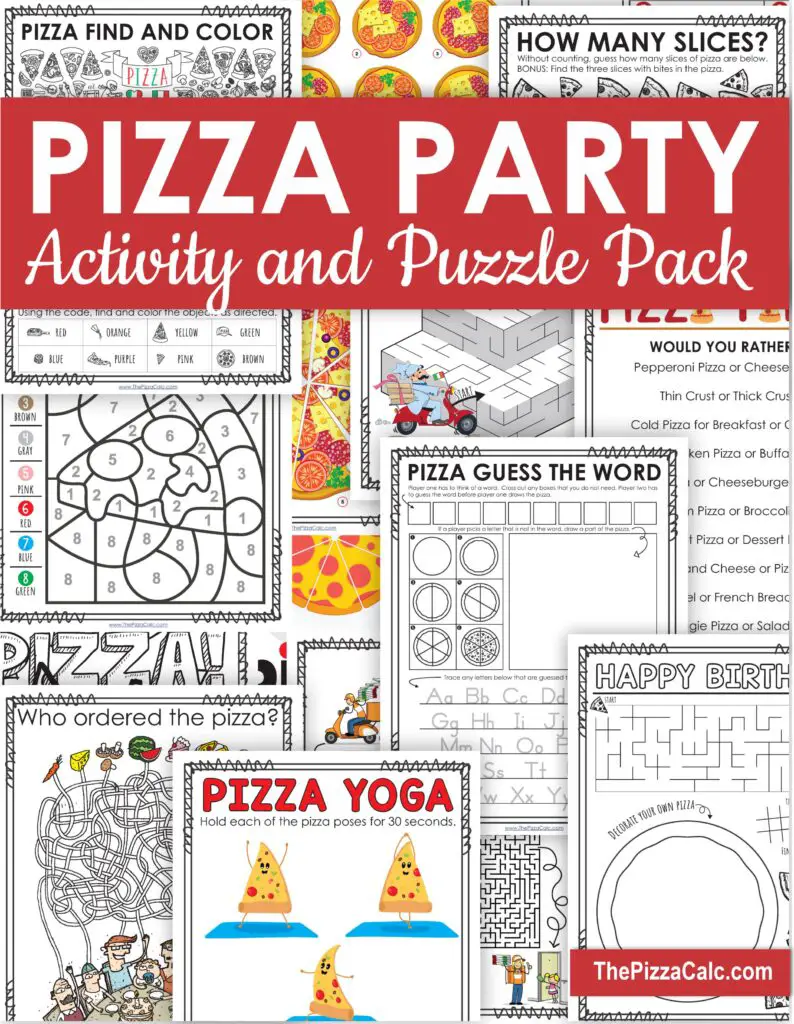 Pizza Box Assembly Race
Have your party guests compete to see who can build the quickest pizza box!
Pizza Box Balancing Contest
Have your guests balance a pizza box on their heads and then race to the finish line. Anyone who has a pizza box fall off their head is out!
The Pizza Leaning Tower
Have your guests stack pizza boxes as high as possible; whoever has the tallest tower wins!
Pizza Box Puzzle
Cut up your favorite pizza box, scatter the pieces, and then have your guests try to reassemble it.
Pizza Coloring Pages
Download these FREE pizza coloring pages. Pick one page or let your guests decide. Have contest to see who can color in the best picture. Hang up all the entries to decorate the party!
Pizza Themed Birthday Party – Setting Up For Fun with Toppings
We think much of our guide's success is using toppings in the best way possible. It's best to leave all the toppings out for guests to use as they please. Preparing the various toppings is simple enough, but putting complementary ingredients in matching bowls removes the guesswork from creating winning combinations.
Indeed, there will always be those who prefer to create something wholly unique and original, which is perfectly fine with so many topping options. Who knows if they'll end up making the world's next great pizza?
Delicious Pizza Party Food Items
Food is a significant part of any party, but when it's the party's theme, it is even more critical to get it right. Fortunately, pizza is a great place to start because it is one of the most popular and versatile foods that children and adults enjoy. Some people believe that having a pizza party limits your food options, but there are many ways to get creative with your pizza party menu, so let's look at some of them.
Pizza Party Appetizers 
If you're planning a multi-course meal, appetizers are a must. Let us focus on some of the best party appetizers for getting your party started on the right foot.
Garlic Bread
Garlic Bread is genuinely a classic accompaniment to any pizza. It is a great idea to consider more than one option, including stonebaked and gluten-free options.
Salad
Salad is a tasty choice that can also be used to garnish the pizzas when they arrive with the main course.
Pizza rolls
A platter of mini pizza rolls is another excellent way to whet your guests' appetites and prepare them for the main course without ruining their appetite.
Bruschetta
Bruschetta, another aromatic bread dish, is delicious and can serve as the foundation for some fantastic sauces or dips.

Main Course (Pizza Time!)
The main course is the focal point of any dinner party, but it has to be delicious when it's a pizza party. Fortunately, pizza is not only famous but also highly adaptable, allowing you to please even the most picky partygoer.
In fact, why not choose a combination of options? It is a good idea to take your time to think about different pizza varieties to suit even the fussiest of eaters.
If possible, working together on the pizza-making process is a great idea. After everyone has finished making their pizzas, they are baked in a hot 450°F oven for 12-15 minutes. It is okay to wait until the crust edges and bottoms are a rich golden brown. After that, transfer the pizzas to dinner plates and serve. It does not get much easier than that for a party.
Pizza Making Party: Make-Your-Own Pizza
Back in the day, there was only one pizza dough: yeast and white flour. That's all there was to it. Thankfully, times and tastes have evolved, and we can now make pizza with various doughs. We recommend handing guests a disc of dough for this make-your-own pizza concept, whether whole wheat, gluten-free, spelt flour, pre-made, homemade, or another favorite.
When working with fresh dough, a 1-pound portion of raw dough should be enough to make a 10-inch pizza. It is a good idea to bake these homemade pizzas in a perforated pan, especially in a conventional oven. If you would instead cook your pizza on a grill, consider purchasing a pizza stone – a must for this method.
Recommended Variety of Pizzas
Here are four of our favorite pizzas, including two vegetarian options. We promise you won't be disappointed if there are any here that you haven't tried yet.
THE VEGETARIAN
Making pizza with a variety of favorite vegetables always works. We used readily available vegetables, but feel free to experiment with more unusual additions such as corn, peas, asparagus, zucchini, and fresh greens such as spinach or arugula.
It's always handy to have vegetarian pizza on hand!
THE HAWAIIAN
The Hawaiian is a tribute to a fellow countryman. Sam Panopoulos, a Greek-Canadian from Chatham, Ontario, is credited with inventing pizza in 1962.
What is not to love about tangy tomato sauce atop pineapple, smoked ham, and Mozzarella? I tell you, this is brilliant!
QUATTRO STAGIONI
This famous pizza is regarded as the pride of Italy. This pizza is divided into four quadrants, each topped differently to represent one of the four seasons. So, the seasonal representation is artichokes in the spring, black olives in the summer, Portobello mushrooms in the autumn, and prosciutto in the winter.
This pizza has a great flavor and is topped with Parmesan.
PIZZA BIANCA
Our final submission is a white pizza with no tomato sauce. Instead, a generous sprinkle of Mozzarella is mixed with sliced pear, Gorgonzola, and walnuts. Still, the final step, a drizzle of honey before baking, is one of the most inspiring moments in pizza history!
Pizza Themed Birthday Party Side Dishes
Sides are a great way to add color and flavor to your pizzas without taking away the spotlight!
Nachos
It adds a ton of crunch to your menu and is a perfect excuse to break out the guacamole or salsa.
Fries
The only thing that may be as popular as pizza is French fries, so consider including this party menu staple.
Salad
Salads are also great as sides as well. Healthy sides for pizza are just as essential to balance out all the carby goodness!
Desserts
Nothing screams celebration like a tasty dessert. Sure, you could have cake or ice cream, but why not try something new? Consider replacing the birthday cake with a dessert pizza!
Conclusion
We hope these pizza themed birthday party ideas have given you some food for thought (pun intended) and will assist you in planning an unforgettable celebration! The pizza making party idea is a banger as it becomes a socializing factor.
With these pizza party ideas, we've simplified the pizza process. Let's make dinner tasty!
Related Links
What to Serve with Pizza at a Birthday Party