'Tis the season for holiday parties and what better way to celebrate than with a pizza party! Whether you're looking for something fun to do with your family or friends, or you want to try something new this Christmas, we've got some great ideas for you. Check out our top picks for Christmas pizza party ideas below.
Keep in mind you do not have to get fancy with your Christmas Pizza Party. People are super busy during the holiday season. Keep it simple and just enjoy each other's company with an easy meal of pizza!
(Reminder: This website participates in an affiliate advertising program designed to provide a means for sites to earn advertising fees linking to amazon.com and other sites.)
Easy Decorations for Your Christmas Pizza Party
Stick with classic Christmas colors like red, green, and white when it comes to your decorations. You can find red and green tablecloths, plates, and napkins at Amazon, or get creative and DIY some of your own decorations. Don't forget the mistletoe and toss up some Christmas lights.
You could have a snow filled "white Christmas" party and serve only white pizzas like cheese or garlic and decorate with fake snow confetti and hang up handmade paper snowflakes. Or you could go for a more traditional Italian theme and decorate with red and green streamers and tablecloths. Get creative and have fun with it!
Christmas Pizza Party Appetizers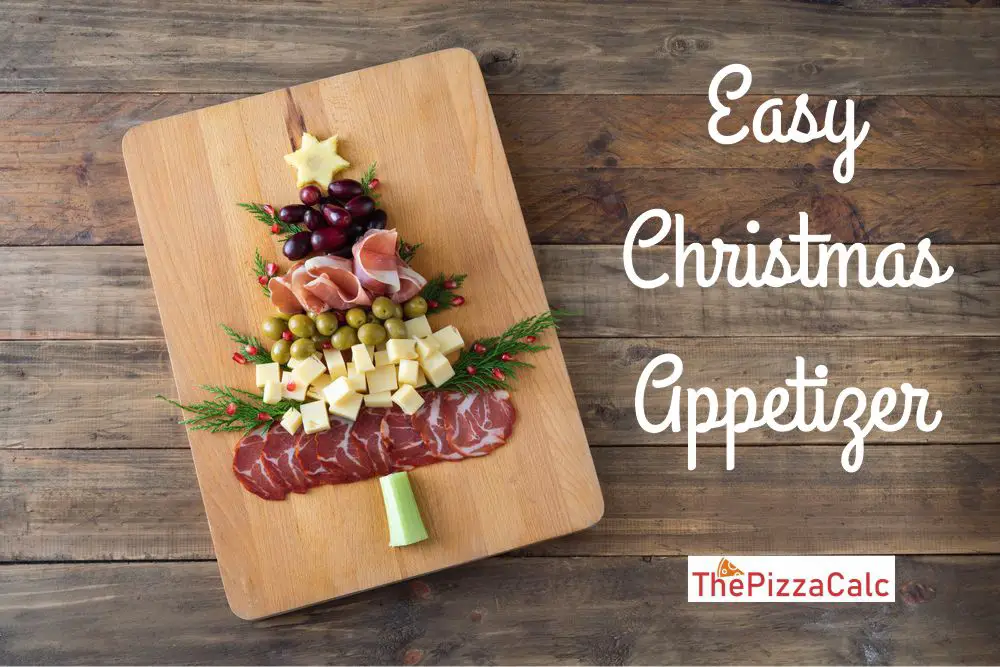 Put out a spread of traditional Christmas appetizers such as olives, cheese and crackers, hummus dip, and bruschetta with balsamic vinegar. You can also add some festive pizzas to the appetizer table. Try topping a mini pizza with cranberries, brie cheese, sage leaves and walnuts for a fancy holiday treat!
Make a simple Christmas charcuterie board in the shape of a holiday tree! Use dried salami, prosciutto, olives and celery.
Festive Pizza toppings
One of the best things about pizza is that there are endless possibilities when it comes to toppings. And what better time to get creative than during the holidays? Remember pizza doesn't have to be tomato sauce and cheese. You could try cranberry sauce and turkey, figs and brie cheese, or stuffing and sausage!
One super simple way to make pizza feel like Christmas is to cut up slices and make your traditional pepperoni or cheese pizza into the shape of a Christmas tree! The kids and adults will love it.
Nobody likes a boring party. Make your pizza party more interactive by setting up stations where guests can make their own pizzas. Set out a variety of toppings and let everyone choose their own favorite toppings for their pizza. Not only will this make the party more fun, but it'll also save you time and money on having to make all the pizzas yourself.
Christmas Pizza Party without Cooking Anything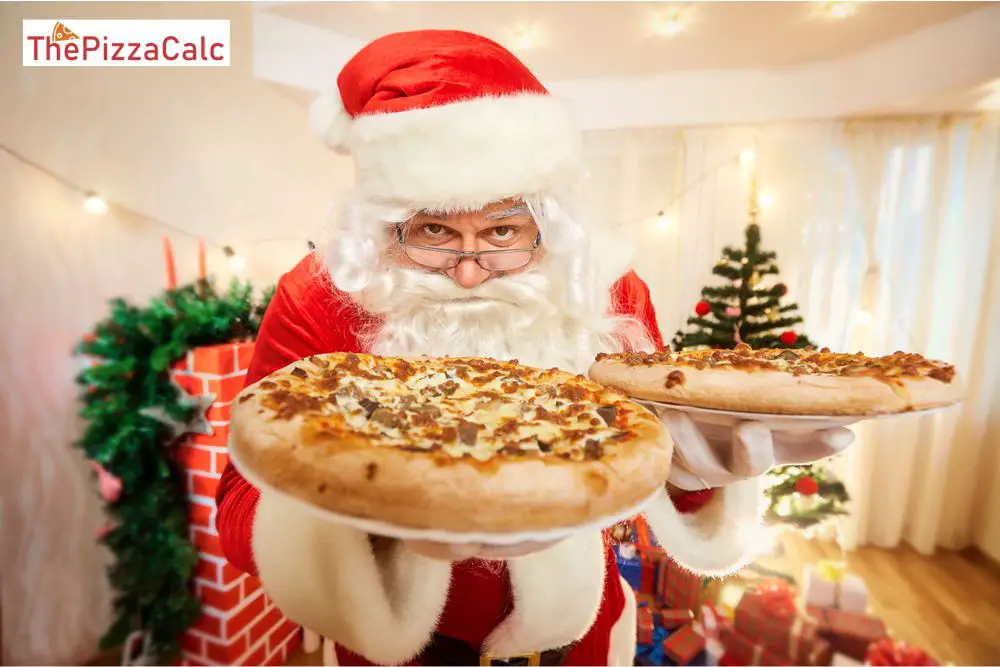 Short on time? How about invite your friends and family over for your Christmas Pizza Party. Order pizza and get it delivered. Leave a Santa hat outside your door and jingle bells. Ask the delivery person to toss the hat on and ring the jingle bells when they arrive with the pizza.
You just made one phone call and the pizza party turned Christmas-themed! Easy peasy!
Wood Fired Pizza Party
If you have an Ooni pizza oven, take the party outdoors.  It can feel so refreshing and festive to step outside in the cold air to mingle while you cook the pizzas. Toss on a Santa Hat to keep warm and snap a few pictures too! Head back indoors to the warm air to enjoy your hot pizza!
Christmas Party Drinks
Keep going with your pizza party theme and serve some signature Christmas drinks. You can make vodka cranberry spritzers, candy cane martinis, Christmas margarita, gingerbread martinis and more! For the kids, you can serve ginger ale with a splash of cranberry juice. After the pizza try a peppermint mocha or Italian espresso drinks!
Christmas Pizza Party Activities

No pizza party is complete without games and activities! Here are a few ideas to get your guests in the holiday spirit.
Christmas Movie Pizza Party – have a movie marathon of all your favorite Christmas classics like Elf, Home Alone, and Miracle on 34th Street.
Pizza Party with Gift Exchange – serve pizza at your gift exchange gathering – a white elephant gift exchange would be especially fun with a group!
Christmas Carol Karaoke – make a play list of your favorite holiday tunes and start singing some holiday karaoke
Pizza Trivia or Quiz Games – stick with your pizza theme and play trivia or quiz games.  Find a Christmas quiz too!
Eat Pizza then Build Gingerbread Houses – (or eat them, no judgment here!)
DIY Dessert Time – buy premade sugar cookies, green and red icining and sprinkles to decorate sugar cookies.
Play Holiday Games – try name that tune with Christmas music, Pictionary with only a Christmas theme, Charades or grab this ready to go Pizza Party activity packet.
Christmas Photo Booth – set up a fun holiday-themed photo booth to make more memories! Download these Christmas Photo Booth props for free.
No matter what your Christmas Pizza Party looks like, just remember to have fun and create lasting memories this holiday season! Enjoying each other's company, eating pizza and drinking signature drinks is the perfect way to celebrate Christmas. Happy Holidays!